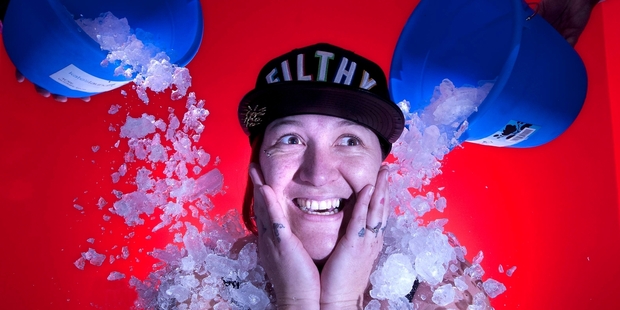 Emma Jenkins has issued a challenge for Rotorua businesses to take part in the Ice Challenge with her - but says there will be safety precautions in place after the challenge was linked to the death of a man.
The Rotorua woman is the latest to take up the social media craze of being nominated to plunge themselves in icy water or have the water poured over them, be filmed doing it, post to Facebook and is hoping other business people do it with her.
And it's all for a good cause - with those taking part donating $10 to charity and those who refuse being asked to pay $100.
The challenge has hit headlines after a Kaitaia man suffered a heart attack and died after a heavy drinking session during which he had a bucket of ice poured over his head as part of the social media game.
He was believed to have taken the challenge and then consumed a large amount of bourbon in a matter of minutes - possibly as much as a full-litre bottle.
Ms Jenkins said there were safety measures in place including the water being poured over shoulders, not the head, and participants drinking a non-alcoholic drink afterwards.
"We don't support the consumption of alcohol. That's not what we are there for."
Ms Jenkins admitted she wasn't hugely impressed when she was nominated, but decided to organise a mass ice challenge at Lava Bar on Sunday night. "I didn't want to do it but thought if I'm going to do it, let's do it with a bang."
She and fellow workmate Trish Cantwell from Red Cherry Ink are both planning to take part on Sunday - and they've been walking the streets drumming up support from other Rotorua businesses to get involved too.
"We're trying to get as many local businesses as we can to do it with us." Ms Jenkins said it was a fun way to get behind a good cause, with money raised going towards a charity of choice, mainly charities associated with cancer.
She said she had family members and friends who had been through cancer, so the cause touched close to home.
Head along to the Lava Bar on Sunday for the 6pm event.