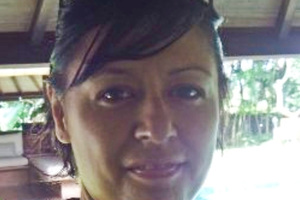 Former Rotorua woman Leeza Ormsby is reported to be relieved at her sentence of 10 months in jail handed down in Bali last night

The 37-year-old learned her fate following her trial for drugs charges last month.
She has been in custody since being arrested in February after being found with a half-smoked cannabis joint in her handbag when police raided a holiday villa in north Kuta.
Her lawyer Ary B Soenardi was reported as saying Ormsby was relieved she was not convicted over a larger amount of drugs found in the villa.
The New Zealander, who was based in Sydney at the time of her arrest, escaped a 12-year sentence after prosecutors at her trial recommended a much shorter jail term.
They argued she should be treated as an addict in the eyes of the court, meaning she would be entitled to a degree of leniency.
She had earlier told the Denpasar District Court that she had a history of drug abuse and rehabilitation attempts.
Police also found MDMA and hashish in a drawer inside the villa, but later decided not to charge Ormsby in relation to those drugs.
Ormsby had not been staying at the villa, but had been given the key by Australian DJ Marco Mazzucco, who was also on holiday in Bali.
Mr Mazzucco had been given the keys by Sydney musician Azaria Byrne, who had rented the villa for three nights, but left early.
Both have denied knowing about any drugs in the villa.
It has been reported the conviction means Ormsby would likely not be allowed to return to Australia.
Mr Ary said she would serve her time then go back to New Zealand.
Ormsby has been in custody for nearly five months so her 10-month sentence could see her back in New Zealand by Christmas.
- with APNZ