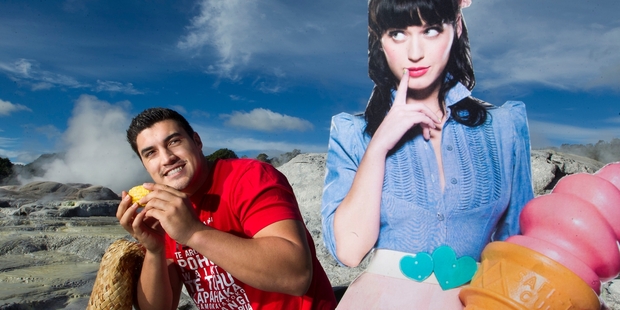 Te Puia wants to make sure Rotorua is part of the itinerary for pop star Katy Perry later this year - but it needs the community's help to get her here.
The singer of hits Firework and Roar is bringing her Prismatic World Tour to Auckland in December and is asking New Zealanders to suggest the best Kiwi experiences for her, hinting she wants to enjoy "food cooked in the ground".
Te Puia online/youth market manager Eruera West said Rotorua was the traditional home of tourism in Aotearoa and they could offer Perry all three of New Zealand's iconic attractions in one place - geothermal activity, Maori culture and our national bird - the kiwi.
"We can offer Katy Perry the hangi experience or something even more exclusive - kai cooked in a ngawha (natural spring) or in a natural cooking pool known as Ngararatuatara," he said.
"Our steambox experience would be something different for her to try, the distinctive flavour of food that has been cooked using the natural geothermal energy of a ngawha."
Mr West said the pop star's experience could include an exclusive guided tour of Te Puia/New Zealand Maori Arts and Crafts Institute as well as a unique cultural performance that could see Perry swinging a poi instead of a microphone.
"A visit here would offer Katy Perry the opportunity to not only experience, but to also taste our culture.
"Her kai would be cooked not only in the ground, but actually cooked by the ground."
Mr West said Perry has 53.6 million followers on Twitter, "getting her here on our soil would help put Rotorua on the world map and our steambox experience would tick off a major on her 'Kiwi' checklist."
Te Puia has hosted significant VIPs during the past year, with the public often unaware of the visits even taking place.
"We have systems and processes in place to host high-profile VIPs in a safe and private manner and take our role as kaitiaki (guardians) seriously.
"We would be honoured to be able to offer our manaaki (hospitality) to her - providing the experience she wants, with all the added extras that she won't be able to see anywhere else."
To help bring Katy Perry to Rotorua, to try a hangi, please Tweet "Te Puia's Steambox" to her Twitter account @KatyPerry, using the hashtag #KatyPerryNZ.