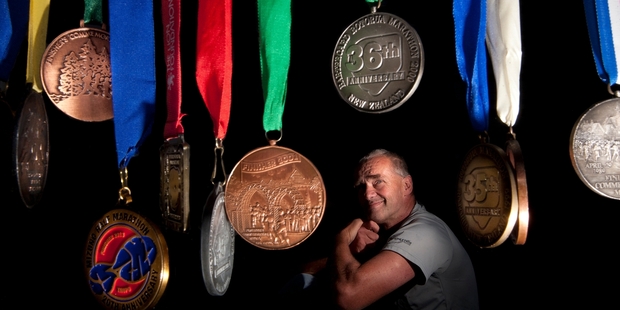 It's a fluke that Rotorua marathoner Rinus Adriaansz is aiming to finish his 30th Rotorua Marathon at this year's 50th event.
The 57-year-old had never planned to even make it this far, but the camaraderie of training has kept him going.
He started in 1978 with an inauspicious finish.
"Bruce McPike told me I could easily do it with under two months of training," Mr Adriaansz said.
"I got round to the airport and I couldn't go any further. I didn't finish that year, so the next year I did full training and made it around in 3 hours and 37 minutes. I learned a lot in training. You've got to train for it; you can't just show up."
His endurance and former speed - his fastest marathon is 3h 29m 29s - is made all the more extraordinary when you take in his disability. Aged 6 he fell out of bed.
He has little recollection of the event and what actually happened but it resulted in a form of paralysis down his right side.
He's run two 50km ultramarathons and a 100km ultramarathon event - that one took 12h 48m - but it was when he started to clip his heels while running that he switched to walking. His first marathon as a walker was in 2008.
"It wasn't safe for me to keep running but I'll be walking until I give up - there's no point doing something if you're not enjoying it. I enjoy the training."
Mr Adriaansz walks five days a week, his longest session in preparation was a six hour walk around the Whakarewarewa Forest. He expects to finish the marathon in around six-and-a-half-hours.
The Survivors' Club expects to present 60 shirts to survivors either achieving their 15th finish or other five year milestones.
Colin Smyth has finished every Rotorua Marathon while the woman with the most finishes is Verna Cook-Jackson, who has 33 to her name.
"This year there are a huge number, something like 25 will complete their 15th to get into the club," said Pam Kenny, Rotorua Marathon Survivors' Club historian.
"This is our biggest number. I think a lot of people have worked out they can miss one or two then be right for the 50th. I think joining Survivors is a good motivation for some. It keeps people running."