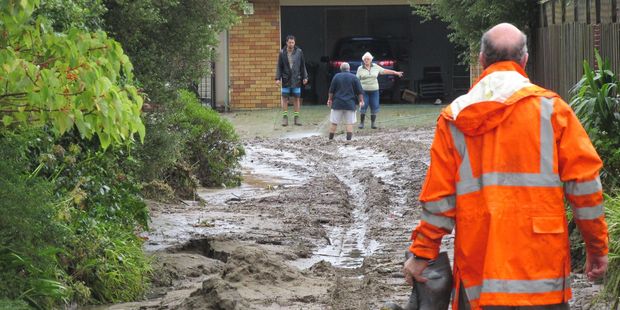 Key messages to remember are:
- Stay off roads if at all possible
- Don't sightsee in affected areas - these areas need to be kept clear for work teams and residents to work on and vehicles driving through the flood waters only aggravates the situation
- A number of roads are closed by slips or flood damage, including Hillcrest Road; Matahi Valley Road; Hereperu Road; and Valley Road although the latter was expected to be open by 10am.
- Every available council contractor and staff member is out in the community, dealing with priority issues. If you are concerned about your safety, ring the emergency services on 111. Other calls can be made to the Council after hours service on 306 0500. Provide details of the issue, location and your contact details and we will respond as quickly as we can
by Katee Shanks
Homes in Ohope and Whakatane were evacuated last night as an intense period of rain fell on already sodden ground causing major flooding throughout the Eastern Bay.
While Kawerau was belted with rain on Friday and suffered surface flooding, Whakatane escaped largely unscathed until about 5pm when a deluge of rain had emergency crews rushing from job to job.
Initial reports had the majority of the flooding within the town's central business district.
Water ran through a handful of shops in Commerce St and The Strand and surface flooding reduced traffic to a crawl.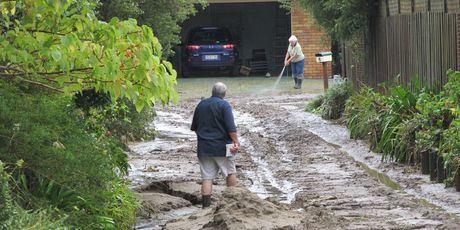 In Alexander Ave stormwater and water coming from an overflowing stream forced the evacuation of a number of homes including a mother struggling to get her four-month-old and three-year-old to dry ground. The mother, who did not want to be named, said she and her children were helped onto a fire truck and taken to the Whakatane District Council building where an evacuation centre had been set up.
Around the corner in Douglas Street, the same stream pushed water into homes overnight and left a mass of silt and debris for home owners and contractors to clean.
Low-lying homes in James St, Landing Rd, Douglas St, Amokura Place, Peace St, McGarvey Rd, Pohutukawa Ave and Harbour Rd were also flooded.
Firefighters used submersible pumps to clear water, with Alexander Ave residents heaping praise on fire crews who they said made a difference to the water level within 30 minutes.
A number of roads throughout the region were closed including the stretch between Whakatane and Taneatua. Hillcrest Rd was closed after rain gouged a hole in the asphalt.
After helping the Whakatane, Ohope and Taneatua Fire Brigades during the night, members of the Edgecumbe brigade had what they described as a sad end to the evening. On their Facebook page the brigade said on returning home after helping the community out in all the bad weather, five of their fire fighters discovered their vehicles had been broken into and burgled.
People have expressed their disgust at the actions of the thieves. If anybody knows anything please contact police.
Taneatua residents have been asked to conserve water after a problem with the town's supply caused the reservoir fall to just 25 percent.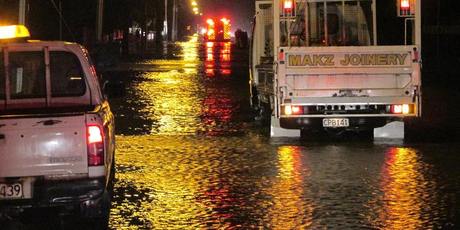 Escarpment stability issues have been highlighted by a slip at West End in Ohope, which has seen a large tree land on the unoccupied house below it. A dangerous building notice has been issued for the property and the nearest neighbours have self-evacuated to ensure their safety.
Weather forecasts predict further periods of heavy rain this afternoon and through the weekend and residents are advised to stay close to home, check on neighbours and family to ensure they are coping and inspect their local areas and make sure gutters and stormwater cesspits are not blocked.
Any stormwater grates that are blocked by leaves should be cleared to ensure that the drainage system can handle the next period of rain.
Although the clean up has started in some places, rain is making the job extremely difficult.