Big plans for Kuirau Park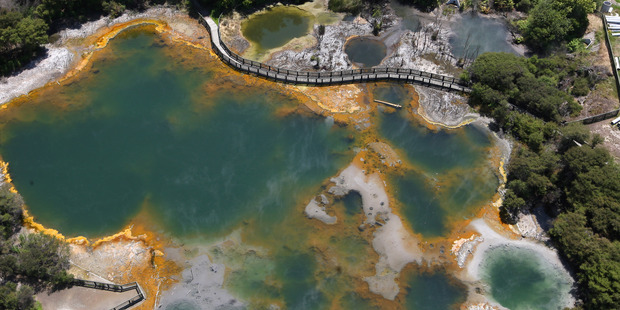 The Rotorua District Council has set aside $320,000 to develop a new "master plan" for the redevelopment of Kuirau Park and the Aquatic Centre.
In its recently released draft Annual Plan, the council states it "has identified its aspiration of Rotorua becoming a major spa city".
"To support this, the council is proposing to develop a master plan for Kuirau Park, where the Aquatic Centre is a major cornerstone and attraction to the park."
Prior to her trip to Rotorua sister-city Beppu in Japan, Mayor Steve Chadwick said she would visit a number of the city's geothermal parks and developments.
"I'm also going to be looking at some examples of geothermal power generation for tourism facilities and 'jigoku mushi' - cooking using geothermal-generated steam.
"Our council wants to see the unique natural geothermal attributes of our own at Kuirau Park substantially developed in the future so the park can become a focal point of Rotorua's geothermal experience.
"At present, Kuirau Park is not realising its potential.
"It's under-developed, under-utilised and falls short as a quality international visitor attraction, so this is a chance to look at ideas for transforming Kuirau Park into something special," Mrs Chadwick said.
Council executive director Jean-Paul Gaston said planning was at its very early stages with the $320,000 included in the draft Annual Plan to start the planning process and look at developing a new master plan for the park, with the Aquatic Centre as a key component.
"We had a master plan confirmed in 2011 and after a change of council and a change in focus we need to start over with that.
"There are no firm plans for any future development just yet."
He said the money was also included to make sure there were funds available for possible concept design work and to undertake some smaller projects during the coming financial year, rather than wait until next year.
"I'm not sure what will happen to the Aquatic Centre, but it is an important element of the park.
"The intention is to try and get a key group of people around us to help us think about how we can develop this place and to make sure we involve the community."
Mr Gaston said the park had some very special geothermal features which were important parts of the "spa city" concept.
"There's some fantastic activity down at the park as well, like the Saturday market, so we certainly want to engage with the community at some point."
The Rotorua District Council draft Annual Plan is available to view at the council's Civic Centre, or online at www.rdc.govt.nz
Submissions to the plan close on May 2.