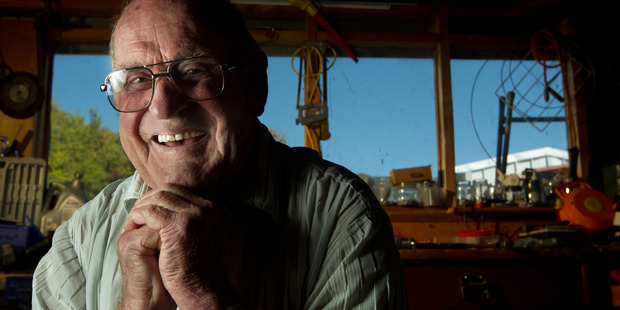 This week's Newsmaker is John Smale, the founder of Rotorua's iconic Toot'n'Whistle, who is working on another rail project for the local community to enjoy.
Tell us a bit about yourself?
I've been with my partner Marie Booth for 10 years. I have two sons from a previous marriage.
In my younger years I was quite a keen yachtsman. Later I joined the Rotorua Operatic Society and helped backstage on many productions and am still a life member.
I have been a member of Lions Club of Ngongotaha for about 20 years. Working with Lions Club I developed and produced the Brewers and Liars Festival and staged a number of tutorials with all proceeds to charity.
I was the instigator of the district project to set up The International Lions Grove in TECTPark. I also organised the roster and operated the police surveillance cameras for 10 years.
What made you want to establish Toot'n'Whistle?
Because I like steam engines of all types. I built Toot'n'Whistle as a hobby, but once I had built it, it had cost so much that it had to become commercial.
During 1957 I purchased the boiler and chassis of the engine which later was to become Toot'n' Whistle. In my spare time I completed the engine and went on to build the carriages and tracks etc.
I applied to the Rotorua City Council, as it was then known, for an area to set up and run the train and they granted me a lease of a section of Kuirau Park.
Developing the grounds for Toot'n'Whistle was a challenge as it was just a big area of waste ground in those days.
What were some of the most memorable moments of owning Toot'n'Whistle?
Well, there's been some funny moments. I built the train on my own, although there are a number of people who now seem to think they helped me.
A lot of grandfathers told their mokopuna "I built that train" and the children believed it. I distinctly remember a man who came up to me when I was driving the engine and said "It runs well and is a great little engine. I helped John Smale build this engine in his garage" and then said "Who are you?".
I stated "I am John Smale" and he quietly walked away. I had a lot of pleasure in the seven years that I ran Toot'n'Whistle.
What are the some of the other community projects you have been you involved with?
Firstly, I love working for the community and improving the city and some of the amenities. I have helped to build the original part of the Rotorua Yacht Club building. I developed the idea of Casablanca Theatre which I also helped to build.
What are your hopes for the Mamaku historic experience you are planning?
The Bush Railway and Old Sawmill Project will provide many benefits for the community. We will be employing about 30 part and full time staff, a lot of them older folk.
Firstly it will become a tourist attraction in its own right by preserving and making accessible the living history of Mamaku and the timber milling of the indigenous forests.
Our project will allow us to clear most of the pests and vermin from the area. Entertaining all ages by riding on a real steam bush railway as there was in the 1920s. It will be a trip back in time.
What are three things about yourself most people wouldn't know?
I love to achieve. I suppose you could say I like pretty women, and I love it when Marie makes me an amazing cup of espresso coffee.