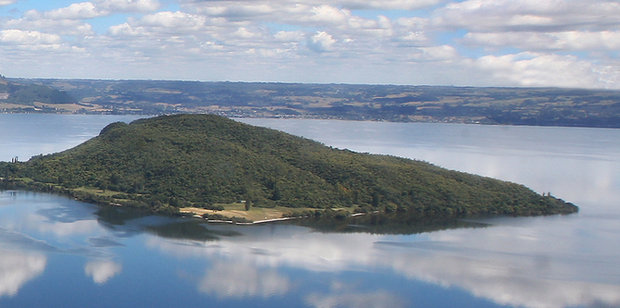 A dead rat found on Mokoia Island during a routine check is prompting calls for volunteers to help monitor traps and tracking tunnels.
The rodent was discovered yesterday near Hinemoa's Pool in a trap which is part of a pest control network set up to protect the island from invasion. They are checked monthly by the
Department of Conservation (DOC). An incursion of rodents could devastate populations of these indigenous birds as rats - along with other rodents - compete with birdlife for food and habitat and eat the eggs and young in addition to attacking adults.
"It's likely that the rat hitched a ride over in a bag, boat or tent of one of the visitors to the island this summer," Department of Conservation senior services ranger Erin Patterson said.
"We are currently conducting a pest incursion response which involves making daily trips to the island to monitor traps and tracking tunnels."
Waiora - Mokoia Island Experience and the Mokoia Island Trust Board was working closely with DOC who wanted to urge volunteers to get in touch with their local office.
"Our first priority is to determine if this is a lone rat or if there are others on the island. Hopefully this is a one off incursion but should further signs of rodents be detected, an intensive trapping programme will need to be implemented and we will be asking the public for help with this."
Mokoia Island is administered on behalf of the hapu/iwi of Rangiwewehi, Rangiteaorere, Whakapoungakau and Ngati Whakaue by the Mokoia Island Trust and access to the island is restricted to groups authorised by the trust.
General public need a permit to visit the island and all visitors must undergo quarantine checks via WaiOra - Mokoia Island Experiences.
Volunteers of suitable fitness who are willing to help with the pest response are asked to email cabbott@doc.govt.nz or contact the Rotorua DOC office.