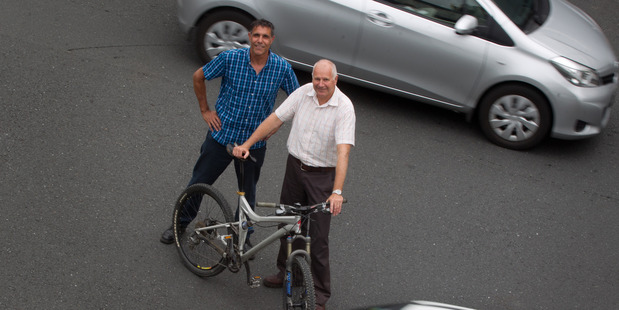 Could Rotorua become a South Pacific cycling destination to rival Amsterdam as an internationally renowned cycle friendly city?
There is no exact figure as to how many cyclists there are in Rotorua but there could be a time when cyclists and pedestrians rank higher than motorists in council transportation budgets.
It may not be feasible in the short term - 30 per cent of travel in Holland is by bike compared to 2.2 per cent in New Zealand - but after the rapid progress made in Rotorua over the past decade it is achievable, says cycling advocacy group Rotorua Cycle Action.
RCA committee member Mark Dyer rides to work most days.
He remembers when almost every child would ride a bike to school - and take the long road on the way back home - stopping off at the dairy or the swimming hole.
Now children are transported to school gates by their parents or school bus, he says.
"Riding a bike when we were young taught us independence and self confidence - all the benefits of growing up healthy and energetic," he says.
"Cycling was very much a part of our lives, now it has been lost, and kids are being dropped off at school by their Mums."
Rotorua can become a safer community if more kids can be encouraged to get back on their bikes, he says.
At the same time parents need to feel confident their youngsters will return home safely, he says.
The cycling advocacy group, formed in 2008, works with Rotorua District Council on policy and public expenditure to make the city safer and more accessible for cyclists.
The 'informal' group gently prods away through submissions to annual and long term plans.
There have been some hits and misses but on the whole the group is making progress, Mark says.
It has a "two way communication" relationship with council, he says.
It is currently working with the inner city revitalisation project to adapt the more cycle friendly zones in the CBD.
"We don't want the CBD to become an 'island' separated by roads from amenities like galleries, museums, cafes," he says.
"It's not new stuff we have proposed, most of it has been used overseas, and we are trying to adapt it to Rotorua."
In Holland traffic is slowed by planting of large bushes on roundabouts to obscure oncoming vehicles - the aim being that drivers approaching the roundabout will slow down because their view is blocked.
It is an idea which could be used in Rotorua, Mark says.
The group has helped bring safer cycling access for school children in the eastern suburbs, creating cycleways, reducing traffic speed, improving signage and limiting parking areas outside schools to provide safer cycle routes to schools.
"We fought against closures of alleyways because we see these as ideal access links for cyclists to use."
Residents may see these lanes as crime spots, the cycle group sees them as links to the community - the more they are used the less they will attract a criminal element.
"We will know if we have made progress when schools begin to re-install bike racks," he says.
RCA member Eldad Collins says the group understands there is no "bottomless pit" of public money.
"It's a matter of modifying existing infrastructure cycling," he says.
It is relatively easy to cycle from the east into the CBD without needing to share the road with cars.
But how do you get a child to bike from one side of the city - across Fenton St, for example - to the other side safely, he says.
"We need to be bold and think outside the square if we want to take advantage of all the economic benefits cycling can bring to the area."
Rotorua District Council transportation spokeswoman Niki Carling says council cycling policy is community driven.
"Council are working to make cycling safer and to get more people on bikes," she says.
"There's been a lot of emphasis already with road safety education, road users taking responsibility and cyclists being more visible to motorists. We'd love it to be like Holland but it will take a lot of years to reach. We're hopeful we can get to the stage where cyclists will play a bigger role. In reality the more cyclists we have on the road, the more motorists will be expect to see cyclists and drive safer."