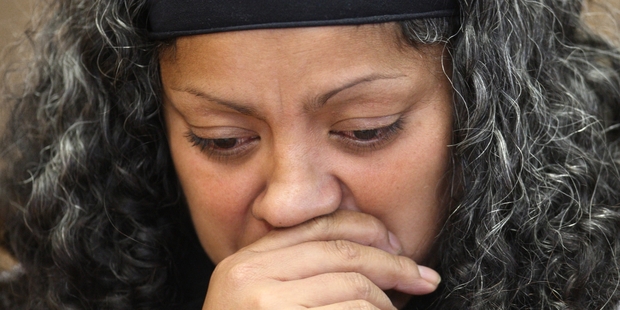 The early release from prison of the mother of murdered 3-year-old Nia Glassie has been described as "disgusting" by a Rotorua Sensible Sentencing Trust spokesperson.
The Parole Board released its decision yesterday which said Lisa Michelle Kuka did not pose an undue risk to the community and that she would be released from prison on April 7.
Kuka started her nine-year sentence for the manslaughter of her daughter on February 4, 2009.
Her then partner, Wiremu Curtis, and his brother Michael were sentenced to life imprisonment for the little girl's murder.
Nia Glassie died on August 3, 2007, from head injuries after being repeatedly kicked.
She had been subjected to ongoing abuse, usually when her mother was out at work, including being put in a clothes dryer, hung on a clothesline and spun around, used in wrestling moves, having objects thrown at her and being subjected to cold baths.
Kuka did not take baby Nia to hospital, and was found guilty of manslaughter on the basis she failed in her duties as a parent to protect her and provide care.
The Parole Board's decision said Kuka had completed several programmes while in prison and was regarded as an exemplary worker.
A psychological report assessed her as being at a low risk of reoffending and the board said she had made "significant progress" over the latter half of her sentence.
"She has demonstrated awareness of situations that may pose a risk if she were to be released and has adequate plans and strategies to deal with them."
Prior to her release she will be allowed home leave to give her the opportunity to spend time at her residence first.
The board imposed several conditions on her release, including that she not have any communication or contact with her children without the approval of her probation officer.
She is also not to reside with or have any child under the age of 16 stay with her overnight, and is to complete alcohol and drug and other treatment as required by her probation officer. She is also not to associate with her co-offenders.
Kuka was denied parole last year when the board determined she still posed an undue risk.
Rotorua Sensible Sentencing Trust co-ordinator Peter Bentley said he was appalled by the Parole Board's decision.
"It's disgusting," he said.
"It shows that something is seriously wrong with the country's parole and justice system."
Mr Bentley believed five years in prison was not long enough for Kuka and that the decision sent a negative message to New Zealanders.
"It makes it look like it's okay for someone to kill their child or to oversee their child's murder.
"Five years is next to nothing, considering what Nia was put through."
Mr Bentley said Kuka should not be allowed to go near any children or to come back to Rotorua to live, as she might mix with the wrong people and potentially hurt a child again.
"We don't need someone like her in the community, a horrible person."
Last week Oriwa Kemp, one of the five people jailed for their role in Glassie's death, had her baby removed from her care by Child, Youth & Family.
Oriwa Kemp, who was jailed for abusing Nia, was in the news this week after Child Youth and Family took her newborn baby from her care. It is the second newborn of Kemp's Child Youth and Family has taken since she was jailed. Kemp also has an older child in state care.