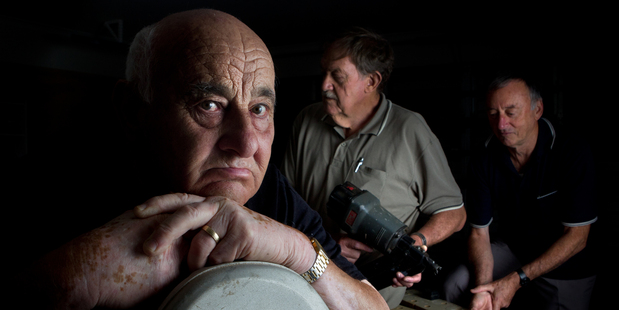 A community minded men's group is on the move after a stoush with another group forced it to find alternative premises.
The Rotorua Community Men's Shed Trust has taken a practical approach to seek another workshop after being locked out of its previous base at the Linton Park Community Centre late last year.
The men's group, which provides an outlet for mostly retired men to leave the house and indulge in woodworking and other technical hobbies, had been using a building at the Kamahi Pl community centre for the past two years.
But problems developed between the group and the centre when Men's Shed members were unable to have exclusive use of their equipment and tools throughout the week.
Men's Shed Trust secretary Peter Lewis says the workshop was locked and members were only allowed to meet on certain days.
The arrangement was impractical as the group had to satisfy insurers that no one else was using tools and equipment.
"We weren't trying to be awkward, it was really a health and safety issue," Peter says.
"We just couldn't have anyone we didn't know using the lathes and saws in case there was an injury and we could be held liable."
Peter says the group completed maintenance duties around the community centre, building stairways and improving facilities on a voluntary basis.
He estimates the value of the voluntary work was between "$20,000 to $30,000".
"We were lucky many of our members have a trade background and were able to source materials which we were able to have donated for the jobs."
Peter says Linton Park Community Centre chairwoman Claire Armstrong has tried hard to reach a resolution between the two groups.
"Claire did her best but unfortunately she did not have the full support and the relationship between the two groups is irreversible."
Claire says it was unfortunate the two groups were unable to reach a compromise.
"At the end of the day the community centre has to cater for a wider range of sections, not just one," she says.
"We are really appreciative of the work the Men's Shed members did at the centre but everything was over a gentlemen's agreement and there were soon differences of opinion."
The Men's Shed has been in discussion with Rotorua District Council to find a new site, Peter says.
The new premises - still to be finalised - will allow all members full access.
Peter hoped the shift will attract more members.
"We were bumping into each other a bit at the previous place and the new workshop will be bigger," he says.
Men's Shed member Don Hawke says the group is a way of getting "old fellas like me off the street to share their knowledge with other".
"We don't have any rules and there are no deadlines to finish projects," Don says.
"We just want to be able to do things which will help the community."