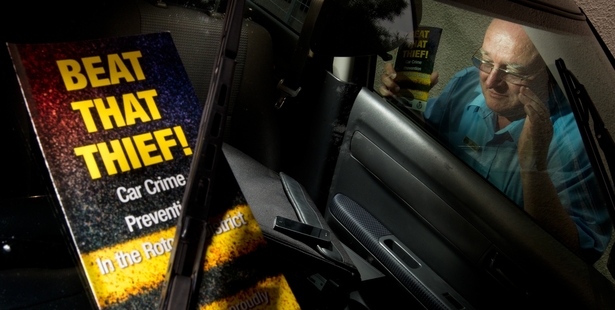 Thieves on the prowl for easy pickings don't have to look much further than cars parked in Rotorua's central city.
In a joint operation with Neighbourhood Support Rotorua, the Rotorua Daily Post found a laptop, cellphones and handbags on full display in cars parked on the streets and at the Central Mall. There were also coins, scratch cards and USB sticks.
Some cars had their windows wound partially down, enough to give thieves a head start.
One person's shopping from Farmers was left in the car while the person visited the main Central Mall area and another had a backpack full of belongings in full view.
The safety issue is even more important now with more people parking in the central city as a result of free parking, which started on Monday, and the build-up to Christmas.
Neighbourhood Support Rotorua co-ordinator Bruce Quedley said people needed to take more care as thieves only needed a minute.
"There are some lowlifes who go around checking out cars as they walk along," Mr Quedley said.
"It doesn't take long, you just need to turn your back and things disappear. If you're going to leave something in your car put it in the boot but do it before you get to your destination."
He said one person had locked a laptop in the car when he parked up, only to return later and find the boot open and laptop gone.
Mr Quedley and other members of the Neighbourhood Support team regularly walked the streets looking at vehicles and leaving leaflets with those which were at risk.
"We normally see just bits and pieces but we also see laptops, phones, handbags and GPS units. With the GPS mounted on the windscreen you're saying 'look at me, I'm here'.
"We can issue as many warnings as we want but some people won't take notice."
The Rotorua Daily Post counted 26 cars with valuable items on show out of 130 cars parked on Pukuatua St, Tutanekai St and part of the Central Mall car park. A further eight cars had windows open.
In the four months from July to October there were 218 car break-ins, compared with 339 for the same period last year, but that was still too many, police said.
Rotorua police crime manager Inspector Ed Van Den Broek said it was up to the community to make sure thefts were reduced.
"As long as people leave property like phones or laptops visible in vehicles or other property then we are going to see break-ins," Mr Van Den Broek said.
"The challenge to the community is to change their mindset and not leave stuff lying in vehicles."