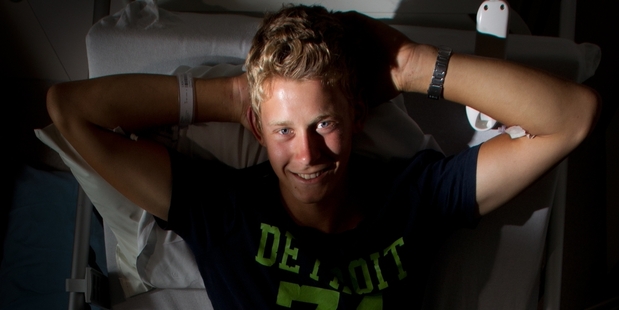 When German hiker Wanja Drees set out to tackle Mt Ruapehu he had no idea he would soon be stranded with a badly broken leg.
The 19-year-old slipped and fell down a slope above Te Heuheu Valley on Sunday, snapping his femur on a rock.
Speaking from his bed at Rotorua Hospital, Mr Drees said he had completed the Tongariro Crossing on Saturday during a weekend away from a dairy farm in Matamata.
He said he decided to make the most of Sunday morning by trekking up Mt Ruapehu.
Dressed in shorts, a shirt and a pair of "normal" shoes he set off alone up the northwestern slopes of the mountain.
About 11.30am the scenic walk took a turn for the worse. "On the way back down the track I stood on a stone and it slipped away," he said. "I slipped with the stone down the mountain."
Mr Drees said he slid along the snow and hit a rock about 50m down the slope.
"I tried to stop there but it did not really work."
When he finally managed to stop a further 50m down he realised something was wrong.
"My left leg didn't look like a leg, I could see that it was broken and it was swollen," he said. "There was blood coming out of my shorts."
Not knowing his bone had come out of the skin, and after losing his cell phone in the fall, he stayed in the area for about 30 minutes yelling for help.
Starting to think no one would find him, he took matters into his own hands.
"In the end I decided to put the shoelaces out of my shoe and I bound my legs together."
With the shoe laces tied across his thighs, and his left foot sitting above his right, he began to slowly slide on his back down the hill towards help. After 15 minutes or so he saw something "amazing".
"A man named Scott from the National Park Village and his daughter heard me yelling."
He said the man called emergency services and he was flown to Rotorua Hospital by the Taupo Greenlea Rescue Helicopter.
Mr Drees underwent surgery to his left leg on Sunday night and expects to be released from hospital tomorrow.