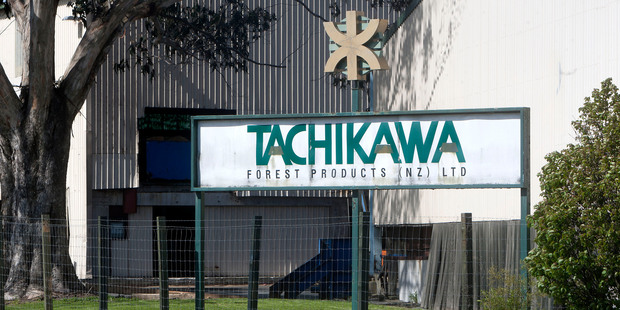 The news does not get better for former Tachikawa Forest Products employees after being told they may have to wait until next year for redundancy payouts.
Workers yesterday met First Union officials at Hurunga Te Rangi Marae in Ngapuna where they were given bad news.
About 130 staff lost their jobs at the mill on October 24 after its Japanese owner announced it could not afford to continue operating.
Receivers KordaMentha were called in to liquidate the business, or find a buyer to take it over.
First Union wood secretary Rawiri Daniels said he had been told by the mill's receivers that legal challenges by log suppliers had held up the redundancy process.
"This could significantly affect our workers in a detrimental way.
"Everything has now been held up and we don't know when it will be resolved.
"I would strongly urge the company to reconsider their position and give some thought to the families of our workers who are going through some very tough times," Mr Daniels said.
Former Tachikawa employee Charlie Carroll said his colleagues were disappointed with the news and were becoming increasingly concerned about their futures.
"Some are not coping with this very well at all. Most of them are still unemployed and struggling. They have kids to feed and Christmas is coming up."
Mr Carroll was hoping they would get their redundancy before Christmas, but were told it could be well into the New Year before they saw any money.
KordaMentha partner Brendon Gibson told the Rotorua Daily Post he had received claims from several log suppliers who were owned money by the company.
That money would come from the same pot as redundancy payments for workers.
"We are hoping to have this resolved as soon as we can. This is a really complex area of law that we are working through."
However, Mr Gibson said he had received some interest from several different parties regarding the purchase of the mill and was working through some options.
He said it was too early to say when workers could expect their redundancy payout or if anyone was seriously considering the mill's purchase.
A Tachikawa workers Whanau Day is being held at Apumoana Marae in Tarawera Rd next Saturday from 10am to 3pm. All recently redundant Tachikawa workers and their families are invited. If you would like to make a contribution or send a gift to the workers contact marae chairman Bob Te Aonui on (07) 349 0707 or email wakabobskutanan@xtra.co.nz or call First Union representative Shirley Curtis on (07) 348 9176.