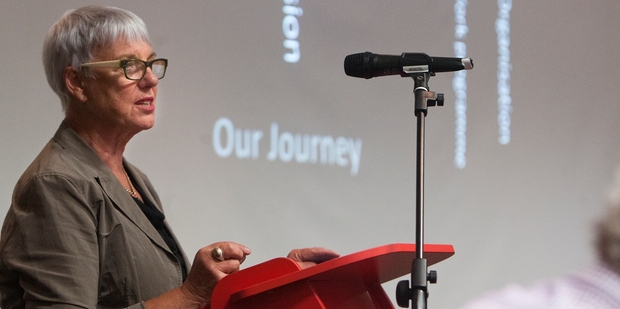 Mayor Steve Chadwick has revealed seven key goals for Rotorua by 2030 with four short-term goals to be achieved within the next three years.
Among them is a move to take back Rotorua's geothermal resource to provide warm, comfortable home heating across the city.
Mrs Chadwick and Rotorua District Council chief executive Geoff Williams took about 180 of Rotorua's movers and shakers through their shared vision for the future at a lunchtime meeting hosted by the Rotorua Chamber of Commerce at the Novotel yesterday.
Mrs Chadwick and Rotorua's 12 district councillors recently drafted their vision of what they wanted Rotorua to be like by 2030.
They are about to test their proposals with the community to ensure their proposed future direction has public support.
The mayor said "Rotorua 2030" sets out seven major long-term goals along with four key priorities for the council and community to achieve together by 2016.
SEVEN GOALS FOR 2030
A resilient community
Outstanding places to play
Loved homes - quality, affordable housing
Vibrant city heart
Business enterprise
Employment opportunities
Unspoilt environment
She said her four short-term goals, which she wanted the council to work with the community to achieve by 2016, were to develop a "vibrant city heart", to develop a stronger economy, to support residential renewal and the creation of healthy homes and a focus on sustainable infrastructure and affordable, effective council services.
She said more would be revealed at the next meeting of the Rotorua District Council on November 28, including a new committee and meeting structure for the next three years.
"Our new directions need both short-term gains and long-term goals. The journey starts with determining where we want to be in the future and creating ambitious milestones along the way, starting with what we need to achieve together by 2016. Real change means all of us coming together in our community to reshape and realign our district's future."
Mrs Chadwick said district councillors would be tasked with taking the vision out to the community to gather feedback in the coming months.
"From the end of this month councillors are going to be out and about in our community asking people whether we're on the right track and whether we are focussing on the things people are thinking and talking about."
Rotorua Chamber of Commerce chief executive Roger Gordon said he was buoyed by the popularity of the meeting.
"There were almost twice the number of people expected and a real who's who of the Rotorua business sector. I think it's a real testament to the positivity and enthusiasm for change in the community right now," he said.