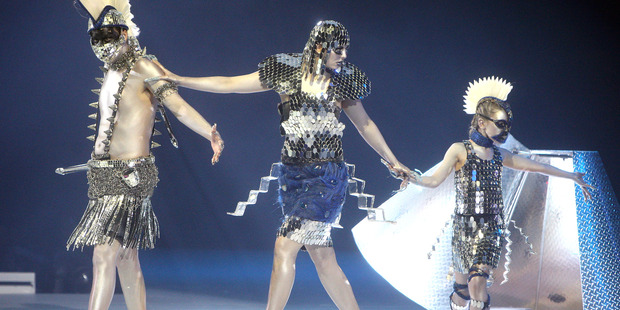 If you have ever wondered what it takes to design and produce your own wearable creation, take to the stage as a performer, or create your own short film compilation, now is your chance to find out, with an informative workshop for the new CreationFest event.
The art and performance event, formerly known as Wearable Creationz, is holding a workshop on Sunday to build-up towards the main atrraction next year.
CreationFest will be held over five nights at Blue Baths from July 15 to July 19, 2014.
Blue Baths managing director Jo Romanes said fans of the show will see a number of changes with the event next year, but the excitement, passion and commitment to fostering art, talent and youth remains at its heart.
"Along with the wearable creations pieces that we all know and love, next year's event will also include two new performing arts components - live performance and film. We expect this programme to be expanded further to involve other art forms in future years.
"Adding other arts genres to the CreationFest format strengthens the depth of what the event has to offer, as well as ensuring we have a diverse reach into our wider communities. Now there are even more ways for people to be involved."
The workshop, which starts at 2pm, is open to anyone - past and new entrants, potential sponsors, teachers who may be encouraging their students to take part, and corporate teams.
Ms Romanes said the workshop would cover the five wearable CreationFest categories that would form the new-look event, as well as advice for creating designs and preparing for the show.
"A key focus of the workshop will also be on the performance art component of CreationFest and young people with an interest in performing arts are also encouraged to attend. We are keen to include a diverse range of performances - everything from ballerinas to jugglers, magicians to trumpet players, as well as singers and musicians.
"CreationFest will be a diverse arts show, that represents our wide-ranging population and cultures. The upcoming workshop is just the first step in bringing this event to life in 2014.
"At the Blue Baths we are all about supporting our youth, empowering them to take part in events such as this. We hope to attract many new entrants and performers, especially those who have always thought about participants, but have never dared to make that final step.
"We hope this workshop will give them that nudge."
Planning is well underway for the workshop and wider CreationFest, and people are asked to register their interest in attending the workshop by emailing CreationFest@bluebaths.co.nz.