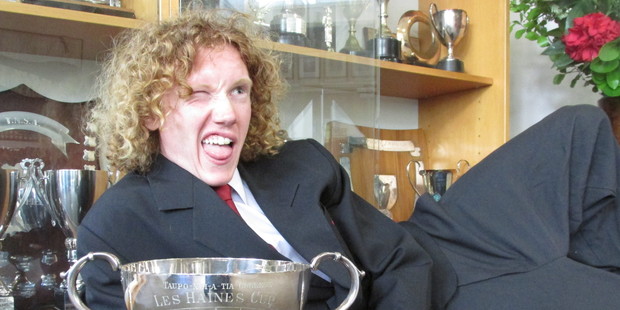 For Taupo-nui-a-Tia College dux Aidin Ralfe, once his three closest academic rivals - Thomas Orr, Kieran Lewis and Nicole Scott - had been named as the three joint Proxime Accessits, he knew he had the dux award in the bag.
Aidin, 17, set his sights on becoming dux at the beginning of the school year and all year the question of who would be the college's top scholar had been a point of friendly competition between him and his mates.
But Aidin put in the work - a lot of work during an incredibly hectic year - to carry off the Les Haines Cup for dux.
A crack shot, 2013 began for Aidin with a trip to the national target shooting competition and carried on with drama performances, including helping the year 11 and 12s' performances and co-directing and acting in the college's entry at the Sheilah Winn Shakespeare Festival.
Aidin was also bassist in the college band Burning Skies which made it into the regional finals of the Smokefree Rockquest.
He also managed to juggle NCEA level 3 drama, history, English, calculus, physics, graphics and performance music as well as Scholarship drama, history and English.
``It was real busy,'' Aidin acknowledged. ``I did what I had to get done. I probably looked like I was quite good at time management.''
Next year Aidin is heading to Victoria University of Wellington where he plans to study law, theatre and German as well as take classes in circus.
``There's a circus trust around there [Wellington] that I took classes with at a National Youth Drama School in April,'' says Aidin. ``So I'll do those and then go and do a circus degree later.
Aidin says he loves the fun and the physicality of circus, especially acrobatics.
``You're able to express yourself in different ways that you can't necessarily do in other forms of performance,'' he explains. ``Similar to dance, but I'm not that co-ordinated and I can't dance.''
Besides being named dux, Aidin also won awards for English, history and drama, and for his contribution to school life.
Aidin's drama teacher Vivienne Gowdy says she'll miss her outgoing, talkative student with his amazing opinions, dry sense of humour and ``ginger power'', and cried when he was named dux.
``He just has worked so hard this year and has kept his head through the whole thing.''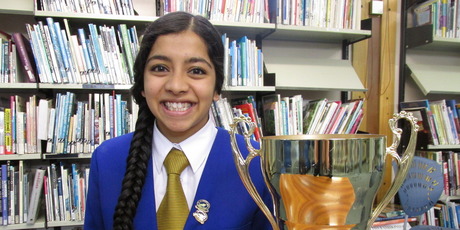 Being dux of Tauhara College clearly runs in the Painuthara family of Taupo.
When Kecia Painuthara, 18, stepped on stage at the college's prizegiving to accept the Ngati Tuwharetoa Prize and Principal's Cup for dux, she was the second member of her family to do so.
Her older sister Lucia had been dux in 2008. Kecia also has a younger sister, Teresa, but given she's only seven, the pressure's not on yet.
Kecia, however, was a bundle of nerves at the prizegiving. She was hoping to be named dux but knew it would be a tough call with so many talented students in her year group.
``I was almost crying. I was on the edge of my seat.''
Besides being dux and coming first in biology, classical studies, English and statistics and second in chemistry, Kecia also received the Gwyneth Lees Award for overall contribution to school life.
As well as her studies, this year she was a member of the college's successful debating team, a member of Youthtown, part of the school executive and vice-captain of the girl's 1st XI football team.
In 2014 Kecia will head to Auckland University to study for a conjoint degree in law and health science, which she says is something she's really passionate about. She'd like to practice medical law.
``I didn't really know what I wanted to do but I went on a Gateway programme with Le Pine and Co and went to court and watched the lawyers, and that's when I knew that's what I wanted to do.''
First, though, she has five NCEA and one Scholarship exam to sit and a summer of working to save money for her studies.
Kecia says while it's exciting to be moving on to university, she will miss Taupo and Tauhara College.
``All my friends, definitely, and all the teachers that have supported me.''
Year 13 dean Pamela Carmichael says Kecia stood out as dux with her outstanding results, and when her name was announced, there was a huge cheer.
She says Kecia's achievements are especially notable giving her huge extra-curricular involvement.
``She was first this year, she was overall second last year and first in year 11, so to maintain that academic excellence and still be actively involved in the community and promoting the school is just exceptional.''
Proxime Accessit was Benjamin Clarkson, described as a determined student who is ``the epitome of a scholar and a gentleman''.