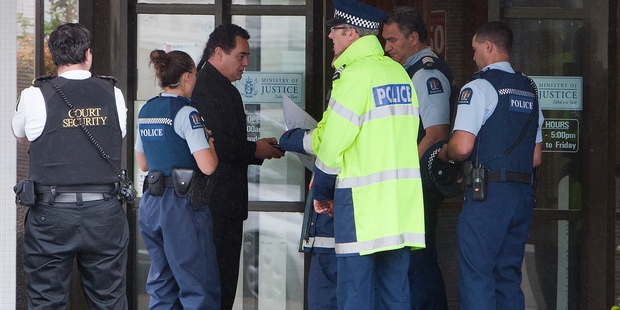 Police are still looking for the person who claimed there was a bomb at the Rotorua Courthouse - forcing its evacuation for more than an hour.
All staff members and members of the public were asked to leave the court just after 9.30am yesterday after a 111 caller said that there was a bomb at the courthouse.
Sergeant Jason Henderson of the Rotorua police said the "very quick phone call" was made from a payphone in the Rotorua area, but police were still trying to find out who placed the call.
He said they alerted court staff who made the decision to evacuate and about five police staff were involved in a thorough search of the court but nothing suspicious was found.
Cordons weren't set up although staff and the public were asked to wait across the road from the courthouse.
Ministry of Justice's Central North Island service delivery manager Dan O'Brien said after the phone call from police they implemented the standard protocols which included a full evacuation of the court.
He said those who were in custody were taken back to the Rotorua holding area while staff and members of the public waited outside.
Mr O'Brien said of all the days, the bomb threat had come at a busy day when they had several courts sitting. "It certainly created a lot of inconvenience but safety is paramount."
Mr O'Brien said he was pleased the evacuation went so smoothly, something he said was a credit to the staff.
One of those in the courthouse, Barry Te Kowhai, said the court was sitting when people were asked to leave and wait outside.
Mr Te Kowhai, who spends most days in court helping people understand how the system works and providing support, said in the six years he'd been attending court he hadn't been involved in another bomb threat evacuation. He said there wasn't any panic when people were leaving.
Another man said he was frustrated having to wait around outside not knowing what was happening. The man, who was due to appear in court, said he just wanted to get back inside and get it over with. "Everyone just thought it was a hoax."
Anyone with information about the hoax call is being asked to phone Rotorua police on (07) 348 0099 or the anonymous Crimestoppers line 0800 555 111.