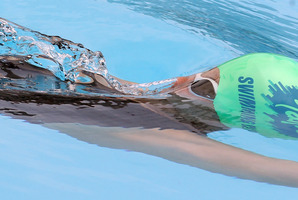 Swim Rotorua continued their upward trajectory with an impressive team performance at the Central North Island Swimming Championships.
The championships at Rotorua Aquatic Centre during Labour Weekend attracted about 350 swimmers from 25 clubs from Bay of Plenty, Waikato, Taranaki, Auckland and Wanganui.
After three days of action, Swim Rotorua emerged as the third top club performer behind a strong Aquabladz team from Taranaki, which included Olympian Daniel Bell.
The club's motto - Swim Rotorua, where people become winners - held true as the team finished with five firsts, 15 seconds and 16 thirds.
Swim Rotorua head coach Alastair Johnson said the key to their success was a focus on the club values of commitment, teamwork and excellence.
Bianca Donelley, 11, shone with three first places in the 100m, 200m, and 400m freestyle events, as well as five second places and two thirds. The 200m backstroke was a new event for Bianca and she improved by more than 16sec to place second.
Jack Weston, 15, was first in the 100m breaststroke and the 400m freestyle. He also got seconds in the 50m and 200m breaststroke events.
James Baldwin, 11, celebrated his recent promotion by taking three second places and two thirds in an eye-catching performance.
Rebecca Firth also had an outstanding meet to place second in the 100m individual medley and third in the 50m freestyle, in the 16-years-and-over age group.
Paddy Baylis, 13, produced an excellent 1500m freestyle race before returning to the pool minutes later to smash 9sec off his 200m breaststroke best time.
He followed that up with third placings in the next three finals in the 200m freestyle, 100m butterfly and 100m backstroke.
Joe Nagera, 13, followed in similar fashion with second in the 100m butterfly after a third in the 100m individual medley.
David Boles, 13, took second place in the 200m freestyle and third in the 200m backstroke.
The three boys then combined with James Baldwin, 11, to capture second in the freestyle relay to go with their third in the medley relay the night before.
Top three placings from Rachel Mead, 15, Ana Nagera, 13, Jacob Stubbing, 11, and Milla Theobald, 10, also added significant points for Rotorua.
Other swimmers who just missed top three placings but scored highly for the club included Tara Chemis, William Spear, Tiana Hill and Samantha Irving.