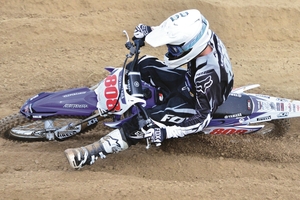 The bikes are primed and ready to go and the track at Taupo is groomed for action ... all that's left now is for the Altherm JCR Yamaha Racing Team riders to take their places on the start line.
This Labour Weekend's annual Motocross Extravaganza at Taupo's Digger McEwen Motorcycle Park will be "the first big shake-down" for national MX2 champion Scotty Columb and his teammates as they prepare to defend their New Zealand Motocross Championship titles in 2014. It won't be easy for the Yamaha men because it will be champion versus champion and teammate versus teammate in this first outing of the season.
Queenstown's MX2 No1 Columb and national 125cc No1 Cameron Vaughan, of Rotorua, will go head-to-head in the MX2 (250cc) class, Columb on a YZ250 two-stroke and Vaughan on an Altherm JCR Yamaha YZ250F four-stroke machine.
Meanwhile, with MX1 regular Billy MacKenzie overseas, Waitakere's Ethan Martens will step in at Taupo to keep the seat warm in the big bike class on the Altherm JCR Yamaha team's YZ450F.
For multi-time former national champion Martens it will also be a step up.
He is a former national 125cc champion and last year raced in the MX2 category but the future for him now is on the 450cc bike.
"We have brought Ethan in because, although Billy is from overseas [Scotland], the team's goal is to support and develop the Kiwis," said manager Josh Coppins, who has just returned from managing Team New Zealand at the Motocross of Nations in Germany.
"I think Ethan has been riding the MX1 bike really well."
In addition to Columb, Vaughan and Martens, BikesportNZ.com rider Logan Blackburn, of Te Puke, will be on board an Altherm JCR Yamaha YZ125.
"We really wanted to cover all the classes. This is part of our programme to develop riders," Coppins said.
"At the end of November the riders will all gather down here [at the team training facility in Motueka] for testing and training, but this Taupo event is the team's first big shake-down.
"Our goal is to win all three classes and we have the riders to do that.
"We will have two main team riders, Scotty Columb and Billy MacKenzie, and support riders too - Ethan Martens, Cameron Vaughan and Logan Blackburn. It is a tiered system and we still have Hamilton's Josiah Natzke and Otago's Courtney Duncan to come into the mix."