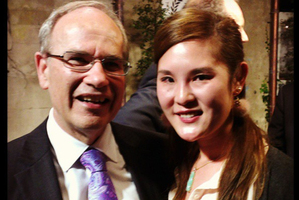 There's nothing like a political sex scandal to divide public opinion.
Should Len Brown stay, or should he go?
Mr Brown is in a right awkward position after it was revealed this week he had a two-year affair with a council candidate 25 years his junior.
What should happen to his political career now is a hot topic and, in my view, there's no right or wrong answer.
A sensible comment I have read online said the following:
"The people of Auckland elected Len Brown to the office of mayor, not as his wife's husband. Let him answer to the electorate solely for his performance as mayor."
But then again, becoming the mayor is a popularity contest. If you don't like the guy, you won't vote for him. There'll be plenty of people who, despite what he's done for the city, won't like him anymore.
The shame and hurt he's brought on his wife and three daughters is massive. That will not be repaired overnight, if at all. If this had broke a month ago, would the outcome of the elections have been different? Quite possibly.
It's also somewhat concerning there hasn't been a promise from Mr Brown that this is the end of the allegations. We can only hope so.
But what I do find interesting is us media types are once again getting criticised for reporting on this story.
On my Facebook newsfeed the other night, a friend queried whether people really cared about Len Brown's affair.
Within an hour the comments were flooding in with those strongly suggesting it was a media beat up. John Campbell was said to be hitting rock bottom by leading with the story and the media were accused of running the country by only reporting what they wanted.
It's funny how all those commenting seemed to know the the details of the story and had obviously read about it or watched the news.
That, I'm sorry to disappoint you, shows it is news.