In December last year two policemen visited David and Lillian Crowley and told them their daughter Lisa was dead, along with their two grandchildren after a horrific crash at Whakamaru. David tells Rotorua Daily Post reporter Alison King their daughter had a bright future until she fell into the wrong crowd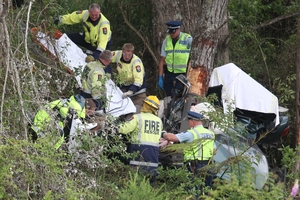 If any comfort can be drawn from the deaths of a daughter and their only grandchildren, David Crowley at least knows where they each are at night.
Buried together in one casket at the Totara Cemetery overlooking Thames are Lisa Crowley, Brody Crowley, 2, and Dylan Crowley, 3 weeks.
It's not where David hoped to pay regular visits, but there's a lot about Lisa's life that he never expected.
On December 18 last year, 23-year-old Lisa, Brody and Dylan, along with her partner Richard Melling, 37, and his son Jordan Melling, 11, were found in wreckage off State Highway 32 near Whakamaru.
They had crashed two days earlier. The coroner ruled Lisa had fallen asleep at the wheel and crashed into a tree. All five were killed instantly. Lisa was found to have valium, cannabis and alcohol in her system, not enough to impair her driving but combined with fatigue it was a lethal combination.
"The warning signs were there," Mr Crowley said.
"We tried to act on it but we'd never encountered it before. The doors were always open to her and the kids but she was a willing prisoner - the drugs and being on the periphery of gangs. She was on a downward slide.
"I didn't like her partner but even in my wildest nightmares I wouldn't have wished this on him."
Mr Crowley said his daughter's death should "serve as a lesson to those who choose to abandon normal constraints, give up employment and become involved with wastrels".
"We were expecting it, for her to be beaten to death. It blew us away that it was all five of them.
"I wanted to hang myself. I felt responsible and that I could have done more. As time goes by you realise the permanence of it, that it's forever."
While the coroner's report mentioned the drugs and alcohol, and the late night drive to a party in Tokoroa, David wants the world to know his daughter had done things with her life.
"She did have a different side. The community has been robbed and the country has been robbed. She was a very bright girl for her age and was ahead in what she was doing. It shows that you can end up off the rails."
Ironically, moving to Mangakino was supposed to give Lisa a good start in her adult life. Home-schooled for her formative years - and winning prizes for her achievements - the Crowley family lived on the Coromandel Peninsula, including seven years at the Tapu Motor Camp. It is where David and Lillian have returned, with their other daughter.
"You want the best for your kids, you want a better life that you had yourself, and it didn't happen. That's the most depressing part. She was always interested in farming so we moved to Mangakino as a family as there was lots of farming down there.
"She became a farm manager and then she got mixed up with the wrong crowd. She had friends who didn't work, so why should she? Her personality changed almost overnight.
"She had been brought up in a fairly liberal atmosphere, we don't condemn people for their choices. But she had become so abusive and nasty, we'd get angry texts, she'd ask for money. It's almost like a welcome relief to know where she is now.
"We have another daughter. She has special needs and the chances of us having more grandchildren is fairly remote."
Mr Crowley said the deaths were still raw and he experiences waves of grief and emotion.
"It was the most horrific thing I'll ever have to live through, and it was just about the end of my wife. We also never got to meet Dylan."