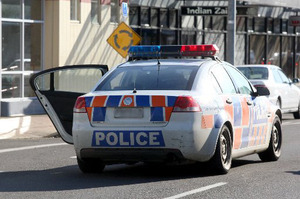 A cracked chassis, missing dashboards and suspension held together with rope are just three defects found in cars stopped by police in a warrant of fitness crackdown in Rotorua.
Ten cars were found to be so dangerous they were immediately ordered off the road.
Rotorua police teamed up with the New Zealand Transport Agency for Operation Waltz, a night-time check of 552 vehicles.
The agency's Midlands manager David Pearks said there was a noticeable improvement in compliance by "boy racer" vehicles but they were disappointed by the discovery of many cars that did not comply with warrant of fitness standards.
"Some of the faults we found included a vehicle driven by a dad taking his son to the ball that had a cracked chassis, no approved seatbelts, the air ram unit protruding through the floor and it had an unapproved suspension unit, all of which resulted in it being unsafe for those riding in it as well as to other road users," Mr Pearks said.
The Midlands team has been working with police in Rotorua since 2010, targeting vehicle standards. This time it coincided with the school ball season.
Mr Pearks said similar operations were important in ensuring the vehicles driven by young drivers were safe and met warrant of fitness standards.
"It's sad that young drivers still are putting themselves, their friends and other motorists at risk by driving in unsafe vehicles. This operation identified some basic standards were not being met.
"There is no excuse for not having seatbelts [or having] worn tyres to the rim and an unsecured fuel tank."
Mr Pearks said while the number of fatal and serious injury crashes involving teenage drivers had dropped nationally from 475 in 2008 to 257 last year, in the Bay of Plenty the figure had remained unchanged. Last year, 25 Bay of Plenty teenagers were involved in serious and fatal crashes.
"Road crashes are still the single biggest killer of teenagers in New Zealand. We are working with police and other organisations to reduce this number by ensuring the vehicles they drive in are safe."
Mr Pearks said with an average of one teenager killed on the roads every week, the country's teen crash rates were still among the worst in the developed world and it was important for parents to do their part by making sure the vehicles their teens drove were up to standard.