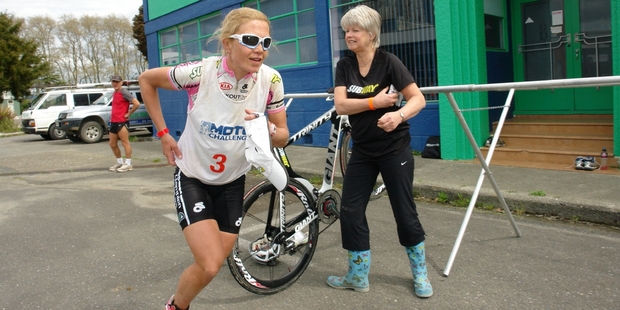 Multisport athletes Richard and Elina Ussher aim to return to the Horizon Energy Motu Challenge, setting up at least one exciting duel in the event's 20th year.
After missing last year's race to take part in an adventure race in China, the Nelson couple have the Eastern Bay of Plenty's Motu Challenge on their must-do list.
This raises the prospect of a clash between Richard and Whakatane's young gun Sam Clark who will be looking to defend last year's title.
At this year's Coast to Coast, Ussher proved he still has an edge over Clark, with the two finishing second and fourth.
But as Clark reflected recently, the Motu is "my home turf". If he can unleash a race-winning turbocharger anywhere, it's in Opotiki on October 12.
"If Richard is there it's always going to be his race to lose. But as always, I'll give it my best shot. I'll just have to try and make the most of knowing the terrain," Clark said.
In the women's race, it's not clear at this stage who Elina Ussher's competition will be.
For the first time in years, Taumarunui's Rachel Cashin won't be in Opotiki.
But Anyika Thomsen, fifth at the Coast to Coast, will be.
And if last year's second place-getter at Motu Ailsa Rollinson returns, things start to get interesting.
The 172km Motu Challenge is celebrating its 20th year. In 1994, Scott Pitkethley beat Neil Jones for individual honours. A year later, while Jones conquered the men's racing, Tulip McRoy was the first woman home, winning the veteran's section just ahead of Deanne White, first open woman.
Since then, winners in Opotiki have included Steve Gurney, Neil Gellatly, Jill Westenra, George Christison and Gordon Walker. More recently, there have been the Usshers, Cashin and Clark.
The Usshers alone have won nine individual titles between them (five to Elina).
The open men's and women's winners will each receive $2000. There will be thousands of dollars in age group and teams' divisions, and tens of thousands in spot and merit prizes.
The multisport race will be partnered by the Motu 160 Cycle Challenge, introduced in 2009 for keen bikers.
Like the multisporters, the bikers head up the historic Old Coach Road to Motu. But they then change straight over to road bikes, and return to Opotiki via Traffords Hill and the Waioeka Gorge Scenic Reserve road.