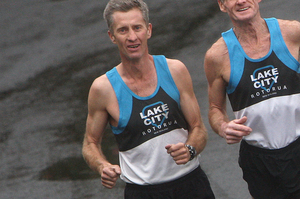 Rarotonga is usually associated with relaxation, lying on the beach or enjoying warmer waters.
But Rotorua runner Tony Broadhead went to the island to see if he could win. And that he did - taking out the annual Round Rarotonga Race on Saturday (NZT).
The race is 31km and this year was the second time Broadhead had entered. In 2011 he finished second.
He was part of a 23-strong contingent of Lake City Athletic Club runners who entered the race and other associated events.
He said it was the perfect weather for an event associated with tropical weather.
"It was overcast with a breeze, but not too hot," he said.
Broadhead said he caught the race leader, local favourite Bryn Parry, at the 11km mark by following his race plan.
"I couldn't believe how fast he went out, he was so far ahead of me in the first 10km.
I knew the heat was coming, so I did what I knew would work for me.
"From there to 27km we ran together, I was able to pull ahead and hold on to the finish. I'm thrilled to have won.
"I didn't know I had won it until I had about 3km to go. Bryn had dropped off me and the race official gave me time splits saying he was fading.
"The Round Rarotonga Race is a great event to do and the support was awesome from other club runners and those who made the trip."
Broadhead finished in 2hrs 3mins 7secs. Parry eventually finished third in 2:06.35.
New Zealander Lisa Robertson was second overall in 2:04.47.
The next club member to cross the line was Shayne Hossack, who took up running only a year ago. He was 10th overall in 2:22.
Other placegetters included Francis Fordyce, who was first 45-49 woman in the 31km walk, Andy Eastcott was first 70-plus male in the 10km walk. The youngest Lake City runner, Javier Browne, was first boy home in the 10km event in 54 minutes.
The trip was organised by Kerris Browne who said club members had enjoyed taking part in the numerous events held over race week.
She said Parry and his family were planning to move back to Rotorua in December and join the club.
"That's the icing on the cake."