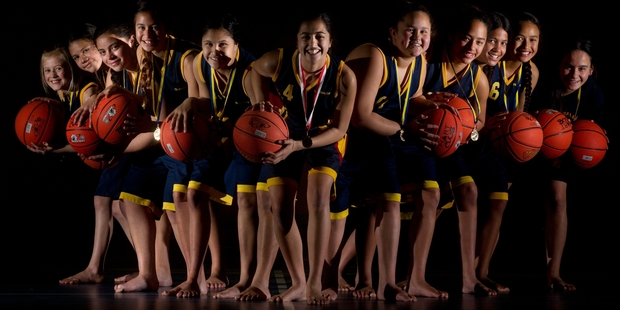 Te Kura Kaupapa Maori o Te Koutu continue their impressive basketball record by adding an intermediate school national title to their trophy cabinet.
The Year 7 and 8 pupils were named the basketball girls champions of the New Zealand Community Trust Aims Games - one of the biggest sporting events in the country for intermediate school-aged children. They were runners-up in last year's competition and were the titleholders in 2010.
Captain Te Aokahurangi Leach said the team had been training hard leading up to the week-long event in Tauranga recently.
"We were having to wake up early for training and we'd be running all the time and during our lunch breaks," she said.
The team had lost to Tauranga Intermediate during the early rounds of the competition but coach Moana Douglas said that it helped the team refocus.
"It was good in a way because the girls learned from that experience and knew they had to be disciplined, they had to get their hands out and not foul," Mrs Douglas said.
They progressed to a semifinal showdown with last year's winners Murrays Bay Intermediate from Auckland that Koutu dominated, winning 30-20.
"They were way taller than us but they fouled heaps and we had really good defence and were able to play well as a team."
It was a convincing 29-14 win in the finals against Hamilton's Koromatua School.
"There was 0.1 seconds left on the clock and the other team called a time-out and we thought the game was over so we were screaming but we went back on the court for the last point second and when we knew we had won we were really happy and hugging each other," Te Aokahurangi said.
A celebration haka was performed on the side of the court by the team's supporters and other Rotorua schools that were taking part in the Aims Games.
Mrs Douglas said the strength of the group was that they knew each other so well.
"The great thing about this team is we had a choice of only 20 girls in our school to choose from whereas most of the other schools have 1000, 2000 kids enrolled - so it was awesome they did so well," she said.
Te Aokahurangi was also named the most valuable player of the tournament.