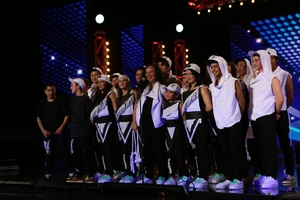 There's 25 of them, they're mostly related and they've got a whole town behind them.
OKK (Original Kids Krew) are all set to show their mix of "hip hop meets kapa haka" when they take to the stage on NZ's Got Talent tomorrow night.
The group travelled to Wellington in mid-August for their big audition in true Turangi style - on a bus driven by the uncle of one of the young performers.
The dance crew, who range in age from 8 to 44, raised money for weeks to get to Wellington.
Group spokeswoman Ngapera Haitana said that, coming from such a small place, appearing on the show was "the opportunity of a lifetime".
While details of the performance had to remain secret until after the show screened, Mrs Haitana said she hoped the community would tune in to watch and feel the group had done Turangi proud.
They mix modern and traditional dance, ranging from kapa haka to hip hop. Many of the group were part of Tongariro School's winning stage-challenge performance in the Rotorua finals. Most of the dance crew were related - siblings or cousins, she said.
"Everything is six degrees of separation."
Mrs Haitana said a lot of hard work had gone in after they uploaded an audition video and were selected to take part at the next level: "We were hopeful. It's one of those things, the kids are so talented and you hope others see that and see what you see."
She felt the strong kapa haka background set the group apart.
"We bring that quality which is unique to kapa haka."
This week's episode will also feature another Taupo performer, Sam Walmsley, 24.
Mr Walmsley, who performs as "Sam Sam the Fireman", has an act which involves fire dancing/fire eating.
He was entered in the show by a friend, who didn't tell him.
NZ's Got Talent screens tomorrow at 7.30pm on TV One.