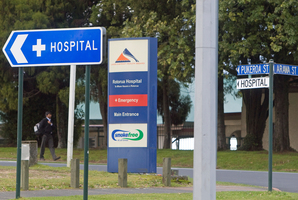 Rotorua's asthma hospitalisation rates are among the country's worst, with smoking a big contributing factor.
Lakes District Health Board had the highest asthma hospital admission rate of the nation's 20 DHBs, according to 2011 Otago University figures, with 272 asthma patient admissions.
Rotorua asthma sufferers are also using more medications each year, with prescription numbers rising from 40,787 to 43,201 between 2008 and 2012.
Lakes DHB figures show that, in the 2012/13 year, there were 233 hospitalised asthma cases, with 121 (51.9 per cent) under 15 years of age, and 76 (32.6 per cent) under the age of 5.
Nationwide, more than 800,000 asthma medicine prescriptions were issued in 2012, costing the Government more than $65 million.
About 52 New Zealanders die from asthma every year, a figure the Asthma Foundation says is "unacceptably high".
Lakes DHB Child Health clinical director and paediatrician Dr Steve Bradley said the reasons for the high asthma hospitalisation rates were complex.
There was a nationwide increase in admissions for pre-school children with wheezing, and clinicians had altered how they diagnosed asthma in the 0-4 years-old age group in recent years.
Lakes DHB community paediatricians Dr Johan Morreau and Dr Belinda Coulter said one of the most important reasons for early childhood asthma issues was maternal smoking in pregnancy.
Lakes DHB respiratory physician Dr Carolyn Allen said smoking, obesity, not taking inhalers properly and damp housing were some of the biggest contributors to asthma and other respiratory problems.
Dr Allen said many patients who were referred to the hospital with asthma actually had Chronic Obstructive Pulmonary Disease (COPD).
Rotorua had a high burden of COPD because of high smoking rates and many of these patients were undiagnosed and therefore not properly managed.
A Lakes DHB spokeswoman said it had put considerable effort into education around the risks of smoking in pregnancy and reducing the number of pregnant women who smoked.
Asthma Foundation national medical adviser Dr Tristram Ingham said more asthma support was needed in schools.
"Sick asthmatic children just go quiet, staff fail to recognise the symptoms."
New Zealand has the world's second-highest asthma rates after the United Kingdom, according to 2012 statistics.
Overall, children were more commonly affected by asthma. Maori and Pacific children had higher, more severe rates of symptoms and were twice as likely to require hospitalisation.