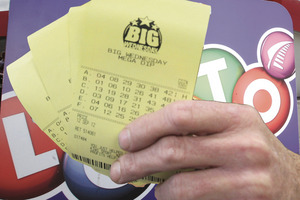 Most of us are rational thinkers prone to bouts of common sense on occasion.
We have a basic understanding of statistics, particularly probability, and realise that, for example, 1000-1 is a long shot.
But every now and then, all that common sense goes out the window and we fork over hard-earned cash for a yellow bit of paper covered in numbers.
Tomorrow's Big Wednesday jackpot of $20 million and Saturday's Lotto Powerball jackpot of $27 million is New Zealand's biggest combined lottery prize pool.
No one's suggesting anyone could win both (though theoretically they could) but given the way a large jackpot captures the collective imagination, those "sometime buyers" will be fancying their luck this week.
Even though the chance of choosing the right six numbers and the Powerball is said to be 1 in 38 million, punters in this nation of 4.4 million somehow figure that if they increase their chances by buying a ton of lines, that mega payout is on its way.
Someone has to win, and whether that jackpot goes this week or in the near future, someone will win. You see, already that brings the odds down to a much nicer 1 in a couple of million, far better than the odds of getting killed by a shark (which seems to be a popular comparison).
But believe me, if you honestly think you have a chance of winning Powerball, you do not want to know your chances of being hit by lightning.
That said, I like to think I'm a relatively intelligent bloke - but come Saturday morning the probability I'll be lining up for a very expensive bit of yellow paper is quite high.