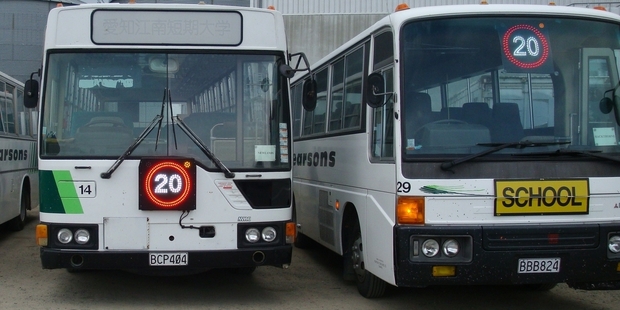 A Rotorua mum hopes a school bus trial in the South Island will be rolled out across the country to make drivers more aware of children on the roads.
Bus safety campaigner Lisa Collins wants all school buses to be fitted with illuminated flashing 20km/h signs - the legal speed limit for vehicles in both directions when passing a stationary school bus. Her son Grant Scott-Collins died aged 13, in 2008 after he was hit getting off a school bus in Kaitaia.
A trial is under way in Ashburton with 30 school buses fitted with illuminated flashing 20km/h signs. They will operate until at least June 2014, but Mrs Collins wants every school bus to have a flashing sign.
"I slowed down for a bus and someone nearly rear-ended me," Mrs Collins said.
"They weren't prepared to slow down. At the moment the law is there but people don't abide by it. I would like to see lights as a minimum so people know to slow down.
"I am so passionate about this, Each day I look at Grant's photo and think if I can make a difference somehow ... spreading the word about what happened to him helps. With this trial there is light at the end of the tunnel."
The trial is being run by Transport Engineering Research New Zealand with funding from the New Zealand Transport Agency's Road Safety Trust, and supported by the local police, Ashburton District Council and Rural Women New Zealand.
The Either Way It's 20k awareness campaign has been running in Ashburton for two months and Rural Women NZ national president, Liz Evans, said many drivers were ignorant of the speed limits.
"A perception survey our members helped to carry out in Ashburton in July found that 35 per cent of drivers did not even know that 20km/h was the legal speed limit, and very few slow right down. It would be much the same around the country."
Data collected so far has shown most motorists speed past school buses, with bus drivers reporting less than one in 20 drivers slowing down.
Mrs Collins said she hoped the flashing lights would become a feature on all school buses.
"With my job I'm on the road all the time and the amount of people I see motoring past school buses is unbelievable. We pray that no one will be a victim before this is rolled out."
In 2009 Northland coroner Brandt Shortland recommended flashing lights and hydraulic arms following Grant's death.