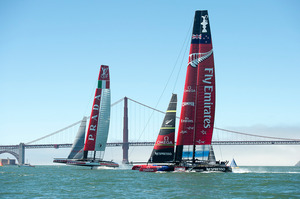 Like many I'm a lot more interested in the America's Cup now the racing's under way.
Before that it was hard to get excited about a sport that seemed at times to be fought out in the courts more than on the waves.
The America's Cup is said to be the longest running trophy competition in international sport - first won in 1851 by the New York Yacht Club schooner America, after which the cup was named. It'd be great if the same logic applied to the Rugby World Cup - every four years we'd be competing for the All Blacks Cup.
There are few events that stir national pride quite like those two biggies - which is part of the beauty of sport.
Even those who can't bear to watch can enjoy the buzz of a major event (and ideally the thrill of triumph).
Yes, it is another world - at times it seems to be some of the world's richest men competing on the world's biggest playing field, a million miles from backyard cricket or a quick game of footie down at the neighbourhood reserve.
But a lot of those sailors started out in a dinghy on a lake like ours.
Now, thanks to the wonders of modern television technology, we can be right in the thick of the action, as they skim across the water at high speeds.
And that's added hugely to the sport's appeal.
But, I'm still a little confused.
It's clear we're all behind the boat with our name on it - Emirates Team New Zealand - but why are there Kiwis on the other side?
The mercenary nature of international sport has never sat well with me.
The message that comes from playing for the other team is that it's not about performing for your country, it's not about the team - it's about the money and it's about personal achievement trumping all.
These may well be perfectly valid motivations - in a small country like New Zealand there's only room for one All Blacks coach, for example.
But that doesn't mean we have to like it.
Meanwhile, bring on this morning's racing. I'm glad Oracle won a race on Monday - it keeps things interesting. As long as they don't win too many.