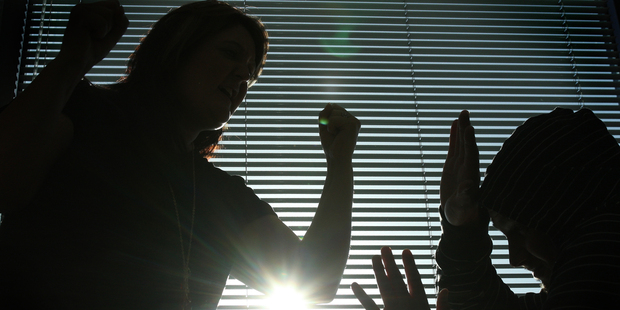 Rotorua victims of domestic violence are making do with temporary police safety orders instead of taking out full protection orders, Women's Refuge warns.
A Waiariki Women's Refuge advocate, who did not want to be named, said many victims thought they had been given a full protection order by police, but had only a temporary order lasting three to five days.
"When you're in crisis mode you're not listening to any information," she said.
Women would continue living with an abusive partner, thinking they had a protection order, she said.
"Ones that have come in here have sworn they've got it until I take them through the process."
The advocate said women with safety orders were also reluctant to go ahead with a full protection order when the safety order expired.
"After that the honeymoon is on and they think, 'I don't need a protection order because he's come back and said he's sorry'."
Community organisations including Women's Refuge gathered at Rotorua police station every week to take on case loads from the 40 to 50 weekly domestic violence incidents attended by police.
The biggest issue seen by Waiariki Women's Refuge was women returning to live with offenders.
"She thinks that she's strong enough and takes him back and of course everything is nice for a few days."
However, about 80 per cent of women passing through the safe house and receiving domestic violence education did not make a second visit.
Rotorua police acting area commander Inspector Ed Van Den Broek said it was important victims didn't rely just on the temporary police safety orders.
"We want to see victims with protection orders rather then relying on safety orders which are only temporary."
Mr Van Den Broek said police safety orders were only granted where a constable had deemed it necessary to preserve the safety of people at risk from family violence.
He said it was an extra tool for times when there was not sufficient evidence for an arrest.
Last month a Rotorua man was sentenced to 18 months' jail for trying to burn down his partner's house while she and her three children were inside.
Watiotetemepara Pou, 39, lit a rubbish bag under the piles of the house when he was locked out and his belongings left outside, but the fire burned itself out.
He admitted attempted arson as well as breaching a protection order.
The number of protection orders imposed nationwide during the last five years increased by 14 per cent to 3507, Justice Ministry figures show.
In total there were 3005 breaches recorded during 2012. Convictions for breaches of court-ordered and police-imposed protection orders increased almost 10 per cent over the past five years, reaching more than 1900 last year.
Family law expert Ruth Busch, a former associate law professor at Waikato University and co-author of the 2007 state-funded Living At the Cutting Edge report on protection orders, told the Rotorua Daily Post tougher penalties were needed to protect vulnerable women, children and even men.
Currently, the maximum sentence for breaching a protection order is two years' imprisonment. Government plans to reform family law, spearheaded by Justice Minister Judith Collins, would extend this to three years.
However, Ms Busch said protection order breaches should attract cumulative sentences to provide more of a deterrent.