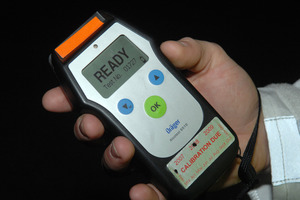 A man rushing to McDonald's "to get a feed for his missus" freaked out during a police chase and rolled his car on Te Ngae Rd, seriously injuring a family member, a Rotorua court has heard.
Rotorua home heating installer Kruze Kaiawhiti Tahu Tahana, 21, was clocked speeding at 146km/h in a 70km/h zone when he failed to take a corner at the intersection of Te Ngae Rd and Alfred Rd around 12.55am on December 8, said police in their summary of facts. The car rolled and slid across the road, jumping a deep ditch and hitting a tree before it came to a stop, trapping Tahana and a front seat passenger inside.
Tahana and his passengers were admitted to Rotorua Hospital following the crash. His cousin, Ellie Stanton, a back seat passenger, suffered serious back injuries which required 50-60 stitches, police said. Tahana appeared in the Rotorua District Court yesterday for sentencing on charges of reckless driving causing injury and driving with excess breath alcohol. His blood alcohol level was 118mg per 100mms of breath.
The maximum limit is 80mg per 100ml. When arrested Tahana told police he "was in a bit of a hurry to get to McDonald's to get a feed for him and his missus." He said he "freaked out" when the police began to follow him with lights flashing.
"I was scared and tried to do a runner. I tried to turn the corner but the wheel wouldn't move and the car began to shake."
Tahana told police he had drunk half a box of Cody's bourbon and cola pre-mixes and some whiskey shots. He was on his way to get more alcohol when he decided to drive to McDonald's.
During sentencing Judge Maree Mackenzie said Tahana had "a rush of blood to the head" and exhibited very poor judgment before causing a serious accident. Tahana was sentenced to seven months' home detention and disqualified from driving for 12 months. He had apologised to family members for the accident at a hui.