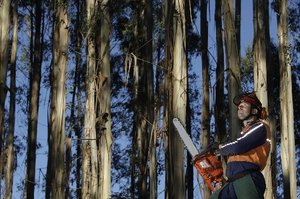 A "blame culture" in the forestry industry means contractors who report workplace injuries miss out on further work, a Rotorua forestry union representative warns.
Engineering, Printing and Manufacturing Union Rotorua organiser Red Middlemiss said stronger penalties for workplace health and safety offences, unveiled by the Government last month, were a move in the right direction but don't go far enough.
"You've got to get into a culture where you're not the ambulance at the bottom of the cliff, [but] where people are willing to report injuries.
"We want to see genuine regulation that attacks the problem rather than lets it all go underground."
His comments follow the announcement by Labour Minister Simon Bridges of major health and safety reforms stemming from the Pike River disaster.
The Government's new Working Safer reform package would introduce stronger penalties and court powers for health and safety offences, but do not introduce a corporate manslaughter charge.
Workplace accidents in the Bay of Plenty sparked 319 serious harm notifications to the Ministry of Business, Innovation and Employment in 2012.
Nationally 40 workers were killed on the job last year, including two in the Rotorua district.
In March this year forestry worker Robert Arapeta Epapara, 23, died instantly when he was struck by a falling log in a forest block at Hauparu Bay, Lake Rotoiti.
He left behind a 3-year-old son and his "darling", partner Saph Norling.
Mr Middlemiss supported a corporate manslaughter charge being introduced.
"It has to occur - I've seen too many deaths.
"It has to be right at the source, it has to be right back at the profit takers."
Better safety regulations were needed for bush workers in particular, who worked long hours, six days a week in adverse conditions such as "rain, hail, snow and 50-knot winds".
"They've still got to get their loads out."
Workers were up at 2.30am to start work at 5am, and only had a 30-minute break in the middle of the day, he said.
"If you complain about working a 16-hour day there's a number of people lining up to take your job.
"The collateral damage is to the families, the kids, the wives that only see their husbands for about 10 minutes each night."
Under the reforms, a person who engages in reckless conduct putting a worker at risk of injury or death would face a maximum penalty of $600,000 or five years' imprisonment, or both, or $3 million for a company.
At present, the penalties for this offence are $500,000 or two years' imprisonment, or both.
Judges would be given power to make "adverse publicity orders" for individuals or companies which broke the law.
The package was a response to the recommendations of an independent taskforce on workplace health and safety, which followed the deaths of 29 men in the 2010 Pike River coal mine disaster.
By the numbers
- 319 Bay of Plenty serious harm notifications in 2012
- 2 Rotorua district workplace fatalities
- 40 national workplace fatalities
Source:MBIE