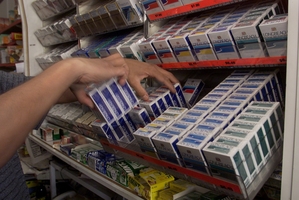 Rotorua needs to crack down on shopowners selling individual cigarettes to school kids in uniforms, a local principal says.
The comments follow new research by the Cancer Society social and behavioural research unit at Otago University, which is calling for a ban on cigarette sales from dairies and in areas near schools.
The research is the first to look at the location of tobacco retailers around the country, and found that almost half of all New Zealand secondary schools are within 500 metres of a shop that sells tobacco.
Tobacco was also more easily accessed in poorer neighbourhoods, contributing to higher smoking rates among socio-economically disadvantaged groups.
"This widespread availability makes it harder for people to quit smoking and easier for new smokers to take up the habit," the report said.
John Paul College principal Patrick Walsh said Rotorua needed to tackle retailers selling tobacco to minors.
"Eventually it'd be great to move to a situation where tobacco is banned completely," he said.
"What annoys us is, from time to time, we get reports of shopkeepers selling cigarettes to school-age students when clearly they're in uniform."
Some retailers were still illegally selling cigarettes individually, he said. "I'd rather see a crackdown on those sorts of things."
It was distressing to see adults smoking inside cars with their children, and Mr Walsh wanted to see legislation passed outlawing this as soon as possible.
"Lots of our students who are really anti-smoking are expressing the view that they're really unhappy with the number of people who are driving around Rotorua and smoking in cars with babies in the back seat," he said.
Underage smoking rates were improving in Rotorua, but taking tobacco out of shops completely could be "another weapon" to reduce teen smoking.
According to the research, despite legally having to be 18 to buy tobacco, a third of minors still get their hands on cigarettes from commercial sources.
The researchers want the Government to introduce a "comprehensive" range of tobacco control measures, including licensing for all tobacco retailers.
Other options include banning some types of shops, such as dairies, from selling tobacco and prohibiting tobacco sales in certain zones, such as near schools. Retailers have lashed out at the recommendations, saying the findings border on "conspiracy theories".
"Yet again we are seeing tobacco control activists out of Otago University lobbying the Government for another whack on New Zealand retailers," NZ Association of Convenience Stores chairman Roger Bull said.
Tobacco controls were already strict, with products hidden behind doors and only available to people over 18, he said.
Claiming the density of tobacco retailers in poor areas or close to schools targeted the most vulnerable new customers pushed the researchers' credibility into the realm of conspiracy theories, Mr Bull said.
He warned of the ineffectiveness of supply-side tobacco controls, as young people often sourced cigarettes through friends and family.
"The simple fact is that retailers sell tobacco because there is a consumer demand for the product and tobacco represents an important revenue stream for convenience stores and small retail outlets.
"This idea will achieve little if anything, aside from driving small retailers out of business."
Smoking is likely to be banned in family cars with young passengers before Associate Health Minister Tariana Turia leaves office next year as part of the Government's goal of a smoke-free society by 2025.