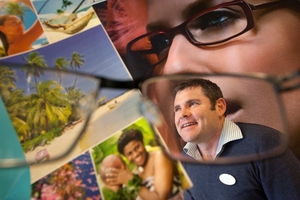 Scott Raisbeck is packing his bags for a week in Fiji, but his time away will be far from a tropical holiday.
The Rotorua optometrist is heading to Ba, north of Nadi, today to work with the Fred Hollows Foundation to help restore the sight to Fiji locals.
He'll spend a week working with staff over there helping to identify the best course of treatment for patients with cataracts as well as working with patients before and after their surgery.
It's not the first time Mr Raisbeck has been overseas to help out. He undertook similar outreach work in Samoa about a decade ago.
He said he was excited to see the work that was being done in Fiji.
"It's really interesting. You get to see another culture and another side of life. You are in a really privileged position to be able to help."
Mr Raisbeck said the nature of the work meant he didn't know what he'd be walking into, in terms of how well equipped the surgeries would be.
When working in Samoa, he'd had to use black polyurethane to black out school and church halls when treating people, but he expected the conditions in Fiji to be more modern.
Mr Raisbeck said it was humbling to be able to help out in places where eye health and care was less accessible to the general population.
Mr Raisbeck, who is a co-owner of Specsavers Rotorua, was selected because of the store's link with the Fred Hollows Foundation.
The Rotorua store raises money towards the foundation and will soon give customers purchasing glasses the choice between supporting a local charity and the foundation.