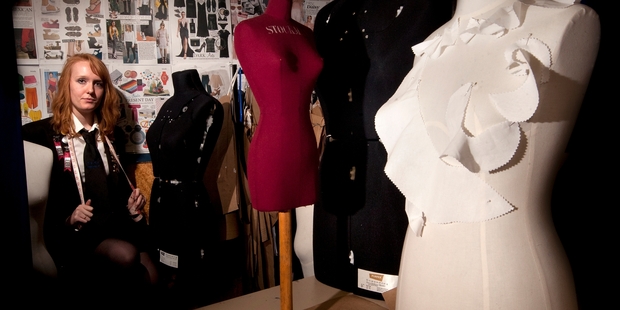 Glitz and glam isn't normally associated with getting top marks, but it's what has driven Anna Wilson to get a 100 per cent grade point average.
The Year 13 arts captain prefect at Rotorua Girls' High School recently received a Community Leadership Award for her high academic achievement. In 2012 she came first in all her subjects and is a Rotorua Girls' High School Young Scholar.
Although Anna puts pressure on herself to achieve academically, it helps that "there's no boring classes". Her subjects include fashion, design, graphics, painting and dance.
"I surround myself with what I love."
Outside the classroom Anna has performed in Rotorua Musical Theatre productions, including her favourite musical, Chicago, received an honours level dance award with AmJazz Dance Studio and attended the American Jazz Affiliation Congress at the New Zealand School of Dance last year.
This year she was lead choreographer for her school in the 2013 Stage Challenge.
Although Anna loves performing, her main focus is fashion and design.
Her mother taught her to sew when she was 7, and she has since dreamed of being a costume designer.
"I just love sparkly things really."
When not in the spotlight she helps with costumes for school and Rotorua Musical Theatre productions and also sews her own clothes. Last year she won first place at the Stretton@Waihou Secondary Fashion Design Competition, making a dress out of about 250 plaited plastic tubes.
Her fashion and textiles teacher, Charlotte Hazlett, who she describes as "young and hip", has been a "huge inspiration".
Anna is applying for Massey School of Design in Wellington and the Royal Melbourne Institute of Technology for 2014.
She hopes one day to become a costume designer for theatre productions in London.
"Just to be there would be really exciting. I know if I want it enough I'll find a way to do it."