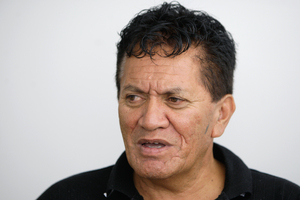 Te Arawa will not support any future mineral exploration until the Government can prove to the iwi it is in their best interest socially, economically, environmentally and spiritually.
The newly formed Te Arawa Coalition has been in talks with the Crown's natural resource managers, New Zealand Petroleum and Mineral [NZPM], which was followed by a meeting with the Minister of Energy and Resources, Simon Bridges.
Coalition co-ordinator and facilitator Te Taru White said the group was formed in June in response to the Government's "lack of consultation" for plans to offer permits for exploration in the Taupo Volcanic Zone. That included tribal boundaries in parts of the Rotorua district.
Mr White said a hui was held at Tamatekapua Marae that involved the Te Arawa Lakes Trust, Te Pumatanga o Te Arawa Trust, Te Arawa Federation of Maori Authority, Te Arawa River Iwi Trust, Tapuika Iwi Trust and the Te Arawa Primary Sector Group. The coalition emerged and is an informal structure that has come together for this issue and any future specific issue.
"We came to a resolution that we the coalition, do not support the Government's tender process across the Te Arawa rohe [area] because Te Arawa is unclear on the social, environmental, economical and spiritual impact, the effect on our wahi tapu [sacred places]," Mr White said.
"The current view of the Te Arawa Coalition is that the consultation process undertaken by NZPM, is not robust, lacks integrity and is inconsistent with Treaty partnership expectations."
Mr Bridges contacted the iwi and a meeting was held two weeks ago, chaired by Waiariki MP Te Ururoa Flavell. The Minister said the Government was looking at certain areas to tender not the entire region.
He also said every application had to meet Resource Management Act conditions and that there was a strict process to follow.
"He told us there were employment opportunities for our people and that it could be a long time before any such tender application, if there were any, would be approved," Mr White said. "It was good to be able to have a full and frank discussion but Te Arawa is not in negotiation with the Government, we have not said 'yes' to anything. What we have told the Minister is that we demand full engagement through the whole process from here on in. Te Arawa expect to be around the table."
Mr Bridges told the coalition he would make a decision in two or three weeks' time but would advise Te Arawa in writing first.