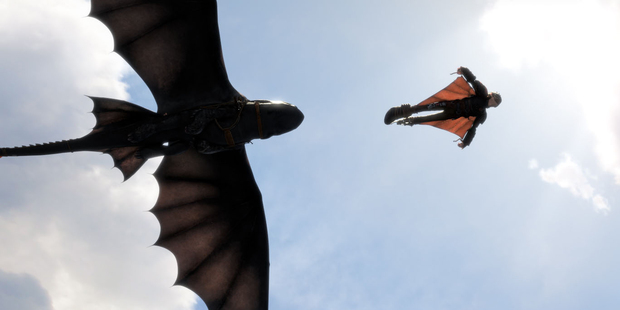 Sequels aren't always the best but we did love this one.
How to Train Your Dragon 2 has a bit of everything. There's comedy, action, romance, and plenty of adventure, topped off with spectacular animations.
Of all the movies to choose from during the school holidays, this one won't disappoint.
The island of Berk is a different place now, where dragons and Vikings live happily together.
Dragon racing is the wild-haired inhabitants' new favourite sport, and although many sheep get tossed around in this game, none get harmed.
Hiccup (voiced by Jay Baruchel) is now a young man, and his dragon Toothless is still the adorable pocket rocket we got to meet and love five years ago.
Like in the first movie, the friendship between the skinny adventurer and his cheeky dragon plays a big part in the story.
Their bond gets stronger as the movie goes on.
Without giving too much away, Hiccup's father Stoick (Gerard Butler) has big plans for his son and he hopes that Hiccup will take his place as Berk's chief, but the young adventurer himself isn't so sure.
Together, Hiccup and Toothless discover new places including an ice cave that is full of wild dragons as well as home to the mysterious Dragon Rider.
They also meet a horrible villain, and the friends find themselves at the centre of a battle to protect their dragons, their clan and their peaceful existence.
How To Train Your Dragon 2 has a strong story line and there are no dull moments in the middle.
It's an entertaining movie from start to finish for children of all ages, and mums and dads are sure to enjoy it, too.
It features lots of action, humour and plenty of heart.
Watch the full trailer here: