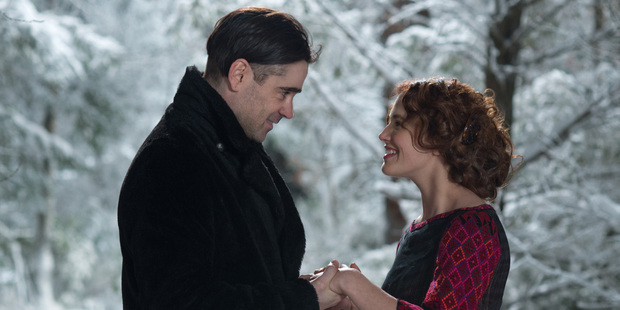 Children enjoy the luxury of imagination.
Adults can be a little too analytical.
But if we park our questioning brains at the door, we can journey into a compelling fantasy and love story in Winter's Tale.
Peter Lake (Colin Farrell) lives by his wits, making a name for himself as a thief and safe cracker.
But he has also made a dangerous enemy -- Pearly Soames (Russell Crowe), an agent of Lucifer himself and a force of evil.
When Peter breaks into one last house before he flees town, he meets Beverly Penn (Jessica Brown Findlay), and falls in love instantly.
He can't get her out of his mind and, despite her fighting an incurable illness, Peter believes he has the ability to find a miracle cure for her.
Soames has other plans and finds a way to get to Beverly. He also believes he has rid himself of Peter.
Fast forward 100 years and we meet Peter again.
It is like time has stood still for him. He can't remember who he is, he just remembers a redhead who is his destiny.
Soames still rules New York and, when he learns of Peter's reappearance, he knows he must finish the job he started.
Peter soon realises that it wasn't Beverly he was put on Earth to save, it is a little girl he has just met.
Once again he must avoid the clutches of Soames long enough to save a very important life.
Winter's Tale is all about the triumph of good over evil. But it is also much more than that and is a captivating fantasy drama.
Watch the trailer here: