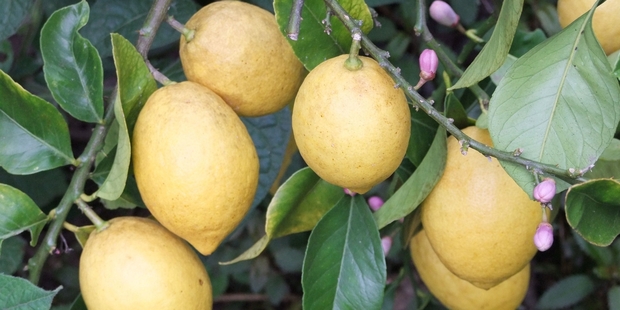 It seems summer is a busy time in the oily rag garden. We have received lots of interesting gardening tips to share, as well as others that are sure to appeal - or at least titillate! And don't forget that if you have a favourite oily rag tip that works well for your family, then you can share it with tens of thousands of other avid oily rag readers of this column!
We had a lovely letter from oily raggers in Whangarei. They became inspired a couple of years ago after reading the oily rag column about a backyard orchard. Well, they got stuck in and planted various trees and are enjoying their first harvest. They say the peaches are the best they have ever tasted and they are looking forward to apples, plums, pears and more. Well done! If you don't have an oily rag orchard - give it a go. They also say they have expanded their vege garden, too, and their kids are watching a giant pumpkin grow bigger by the day. (Goodness knows what will happen if they decide to grow a giant beanstalk!)
Alastair from Whangarei has this gardening, and recycling tip. "Old toilet roll spools.
Save them up, cut them in half, pack in a kitty litter tray and fill with seed raising mix. Add your parsnip seeds, one to each roll. When they sprout you can plant out by lifting the toilet roll and transferring to a garden bed. The roll breaks down in the soil."
Michael from Auckland has a tomato tip. "If you or a friend have one tomato plant it is really easy to get many freebies. Use the laterals. These are the 'unwanted' side shoots that you are told to remove. When you remove them, place the cuttings into a cup of water. After about three days the shoots will start to grow roots. Once the roots are about 1-2cm long plant them into pots with a mixture of compost and soil, then after a week or so into the garden. If you have fine gravel or pumice put this in the water the shoots are in. It helps to keep the roots separate, grow stronger and makes them easier to pot."
Lee from Rotorua writes: "I always seem to have an over-abundance of lemons and most neighbours have as well, so I juice them and put them into icecube trays and freeze, then bag them. I take out what I want when I need it - great with fish! Keep the tips coming - we all love them."
Bernie from Christchurch has a suggestion for Rodney of Rotorua, who wanted advice on how to get rid of a musty smell from clothes. "To keep your clothes smelling sweet, store cakes of soap in your drawers. Not only do they make your clothes smell nice but the soap matures and hardens on storage and has a longer life when finally used."
L.M. from the Kapiti Coast suggests selling stuff on Trade Me when you need a little extra cash. We know of one oily ragger who did that just before Christmas and received about $9000! They said theyhave not noticed the goods' absence. They have, however, noticed the $9000 in their bank account.
L.M. also suggests using vinegar and baking soda as a bathroom cleaner and for a sweet-smelling toilet, "I wipe our toilet and the inside of the tube of the toilet paper roll with a mixture of water and nice rose essential oil".
Do you have a favourite tip to share? Send it to us at www.oilyrag.co.nz or write to Living Off the Smell of an Oily Rag, PO Box 984, Whangarei.