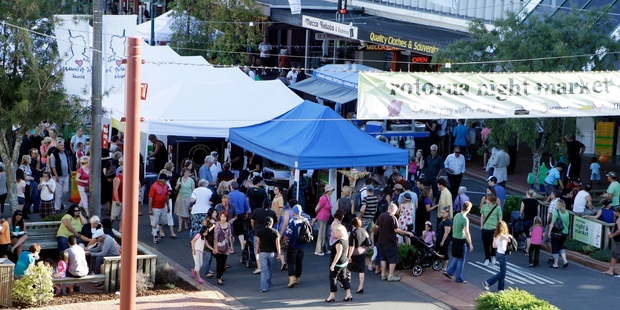 Ask Rotorua Daily Post readers what they like about the Rotorua Night Market and you get answers that reflect the diversity of the market itself.
The night market has been a weekly attraction in the heart of the city for almost four years, bringing craftspeople, musicians, cooks and other small businesses together. It is held every Thursday from 5pm until late - weather permitting - and is a smorgasbord of treats, which makes it essential to try.
Readers on our Facebook page said they enjoyed the atmosphere, music, popcorn, variety and the traditional Maori food.
"Live music - especially when Lukas and Emily-Jayne Powell are performing," said one reader.
"Also love the variety of food available and the different stalls."
Another said: "Has to be the steam hangi with fry bread and top it off with a paua rewena sandwich. Love it. Keep up the good work guys, well done."
The market celebrates its fourth birthday in March, so a special event is likely, as organisers like to change things a bit on special occasions.
Last week the market was part of the Glo Festival, with a Summer Fiesta theme.
For anyone new to the city, or who has not visited the night market before, it takes place on Tutanekai St, between Haupapa St and Pukuatua St.
If you are going, don't bother planning to cook - instead eat out, sampling the variety of food on offer.
When the market was originally launched, it was described as "the biggest thing to happen for shoppers in Rotorua for decades".
The boutique market opened in March 2010 after months of planning by the Rotorua District Council and the Heart of Tutanekai St group, businesses operating within the central city block.
The Rotorua Daily Post Essential 50 lists the city's must-see, must-do and must-try activities and experiences, thanks to reader nominations. We will be highlighting one every day over summer.