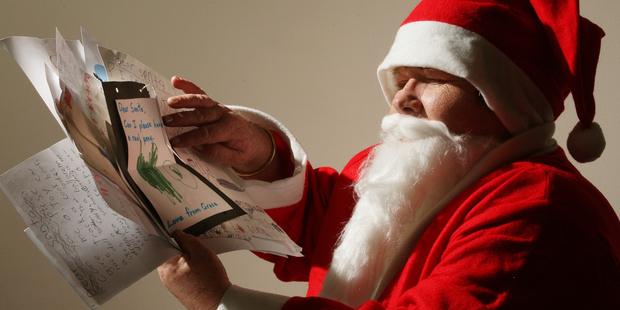 Dear Santa,
Please accept my apologies for writing to you with my Christmas list. I know it is usually the domain of innocent little cherubs and not middle-aged men who should know better.
But I'm getting desperate.
I have my eye on a special power tool at Bunnings but, as far as I'm aware, Mrs P hasn't taken any of my hints and it's not hidden away anywhere in the house yet.
I know I shouldn't have but when she was out at the Briscoes sale the other night, I looked in the linen cupboard, the garden shed, under the beds in the spare room and up in the attic. I can't see it anywhere.
I'm very much afraid I might miss out and end up with something practical but, well, not very exciting on the big day.
I wrote to you when I was 8 and you managed to get me everything on my list - one day I'm going to finish that jigsaw - so I thought you might be able to do it again.
It goes without saying Santa that I want world peace and goodwill to all men this Christmas. But if I had to rank my preferences in priority order I'm afraid the Ryobi 18-volt drill driver with 13mm keyless chuck and lithium ion battery would be at the top.
I know, I'm a terrible, shallow person. But if it helps my chances, I promise to be a good boy all next year and build a nice stable for your reindeer or a garden planter box for Mrs Claus.
I'm not exactly sure if Mrs Claus could actually use a planter box, what with you living up at the North Pole in the ice and snow, but we'll cross that bridge when we come to it.
Pleeeeeease Santa, I really need the Ryobi 18-volt drill driver with 13mm keyless chuck and lithium ion battery.
Mrs P wants me to put up a spice rack.
After that, there's that little piece of wood to go in the bathroom and then she wants a hanging basket stuck up outside somewhere.
I promise it won't be like that skateboard you got me back in 1975. In spite of what my mum says I'm sure I used it for more than one day. I'm sure I'll use the Ryobi 18-volt drill driver with 13mm keyless chuck and lithium ion battery every day.
It's fluorescent lemon in colour, Santa, and apparently you can take the battery out and use it in a whole load of other tools as well.
Imagine that! I know it might be pushing it a bit but if I'm really, really good maybe you could see your way clear to getting me the whole set of tools.
Imagine what I could do with them? I'd probably never stop drilling, sawing, sanding, screwing (oops, sorry Santa. Just imagine I am an innocent 6-year-old).
Anyway. I'll have one last go at taking Mrs P through Bunnings this weekend and I'll try to casually steer her in the right direction. I did try the other day but I came over all emotional as I stood before the power tools shrine.
By the time I'd regained my composure, she had found some plastic storage container for $9.99 and was headed for the checkout. Come to think of it, maybe that's what she's going to hide my Ryobi 18-volt drill driver with 13mm keyless chuck and lithium ion battery in. I'd better go check those hiding places again.
Lastly Santa, thank you for reading my letter. I know it's odd but mentioning what I want repeatedly in a newspaper column might turn out to be the most effective way to make sure Mrs P gets the hint.
Love from Kevin Page
Aged 50.
PS: Sorry we took the chimney out and put in a heat pump.