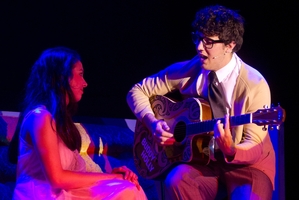 Not many stories begin and end the day the music died.
I'm a sucker for band movies (The Doors, The Commitments, That Thing You Do) so was looking forward to Buddy: The Buddy Holly Story, performed by students from Rotorua Boys' and Girls' High Schools.
And they didn't disappoint.
The show tells the life and death story of the young rocker, played by Eliot Fenton who played Jesus in last year's Superstar.
Holly's star burned brightly and quickly, the show covering just a two-year period from when he first found fame with the Crickets to his tragic death on a snowy night.
The show opens with the beautiful introduction to Don Maclean's Buddy Holly tribute American Pie, but the pace quickly steps up as we are shot back in time and introduced to the star himself, as he and his band begin on the road to fame and fortune.
Somehow they have managed to jam-pack two acts full of hits that will have you bopping along in the auditorium.
Fenton captures well Holly's fiery and determined nature, while Georgjah Tansey (also from Superstar) impresses as Ruby. With plenty of laughs, good music and a compelling story, Buddy's a good night out.
Review
Buddy: The Buddy Holly Story
Rotorua Boys' High School