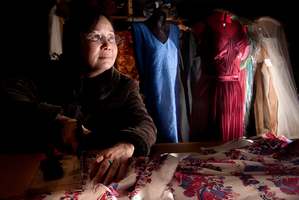 It took less than 100 hours to convince Jian Ping Manson New Zealand was where her future lay. That was the length of the whistle-stop tour she, like so many Chinese visitors, spent in the country half a world away from home.
On reflection Ping (she's known by her second name as is the Chinese custom) realises just how much she missed by spending such a short time here, a lot of it on a bus, but along with Auckland and Hamilton she did see Rotorua and was entranced.
Then she had no idea it's where she'd be putting down roots ... marrying a local man and running a flourishing business was well in the future. Her four-day holiday over, she returned to a China that was beginning to emerge from Communism's clutches.
As a child Ping had dreamed of being a dressmaker, her sewing skills learned at her mother's knee, but at 16 she was conscripted into a metal factory, making machine tools.
"I didn't like it but I didn't have any choice, that was what the Government said I had to do.
When I was young you went to work where you were told."
Ping stuck it out for 13 years, sewing "on the side" for her mother. When China relaxed its grip on compulsory employment placements she quit the factory floor to open her own shop, "Selling gent's clothing and what Kiwis call duvets, I didn't need much money to set up, not like here. I had that shop 15 years, a very good business with seven staff."
We learn much of this with the aid of Ping's friend Anne ("no surnames please") who interprets our questions for her. Although she disputes it, Ping's English is impressive for one who's only been here a decade.
She credits customers at her dressmaking and tailoring business with making her think and talk in "Kiwi English".
"They don't speak my languages [Cantonese and Mandarin] so I've had to learn theirs."
A talented designer, Ping's proof words aren't the sole means of communication, her instinct's a big help. Clients frequently leave the choice of what suits them to her imagination.
"Their personalities tell me what will work for them, I get this picture in my mind and design around that."
But back to the history of Ping pre her Rotorua businesswoman days. She was still a factory girl when she married her first husband and produced their son, Neo, now 30. It's coincidental he was her only child, his birth pre-dated China's "one child one couple" policy.
Neo was at university when Ping chose New Zealand for that four-day holiday.
"I didn't even know where it was, but friends living here told me I had to come. The only way for Chinese people to get here is join a tour group."
The trip unsettled her, she sold her business and enrolled in an Auckland English language school, intending her family would follow.
"I'd only been there three months when my husband sent me a document, it said he was divorcing me, I was very upset but there are heaps of pretty young ladies in China, he'd met one of them."
Friends brought Ping to Rotorua for a birthday party. Roger Manson, a heavy machinery operator, was a fellow guest.
"I don't know what attracted me to him but I fell in love. We got married five months later in the Government Gardens with Chinese, Pakeha and Maori there."
The couple's differing cultures have never been an issue, apart from Ping having to learn to cook "the Pakeha way".
"Roger likes roasts, but it's still Chinese food for me."
She scoffs when we ask if she uses a brush to form the distinctive characters she continues to write in.
"In China you have to be highly educated and rich to use a brush, they're very expensive, an art form, so it's ballpoint for me."
Once she'd secured a work permit, employment's never been a problem for Ping. Her first job was waitressing in a Japanese restaurant. She giggles that most Kiwi customers couldn't tell the difference between Japanese and Chinese staff. However, she craved to return to sewing.
"No one would employ me, they said my English wasn't good enough so I set up on my own."
Last week she moved into her fourth Rotorua shop. One staff member, Moon, worked with her in China. School ball season is Ping's peak period; she revels in the excitement of young girls seeing themselves in their formal frocks.
When Rotorua Girls' High student Kristi-Rae Ruri-Gardiner died in a 2010 van smash she made, gratis, the teenager's three closest friends dresses identical to the one she'd sewn for Kristi-Rae.
"That was a very sad time, seeing those girls so upset really affected me, I was just so glad I could help ease their grief in this way."
Ping's commitment to Rotorua's business community's rubbed off on her son. He's in the throes of opening his own bakery and roast house.
"People say it's hard to get work here but there's nothing to stop you making your own work. It's not easy but it's up to you whether you make a success of it."