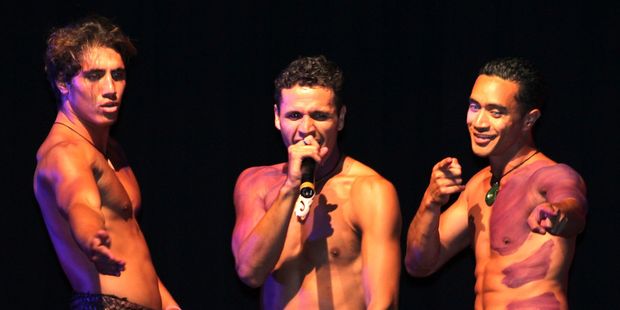 NZ's Got Talent finalists JGeeks will perform in Rotorua tomorrow night as part of their nationwide Eggs Factor tour.
The tour show, billed as "bigger, badder and browner", kicks off at the Civic Theatre at 6.30pm, with tickets now available at a reduced price.
The improved, impressive and improvised show will feature all the well-known slapstick, taiaha wielding, crazy song, hip-swinging moves which have already thrilled thousands throughout Australia, the US and Europe.
"This means that it's time for a brown spanking new show to have a crack up and have some fun," said group spokesman Phillip Quay.
"Share the new moves, new cracks, new songs, and same ol' brown skin," he said.
"Share the madness that the three crazy Maori boys picked up on their international waka adventures, and join the party with a crazy lighting show and the chance to get up on stage and jam out with the boys.
"A definite night to miss - if you're an egg."
JGeeks have received 10 million hits on YouTube and are just short of 100,000 Facebook fans, impressing celebs such as Kayne West.
They have performed for celebrity blogger Perez Hilton, taught Prime Minister John Key how to "geek", and excited millions of viewers on their way to the NZ's Got Talent finals in 2012.
JGeeks' sell-out "Tu Meke Tour" in 2012 toured New Zealand with special guest Tawaroa Kawana and others.
The high energy, high impact tour is uniquely Maori "tongue in cheek" fusion of dance, music, singing, skits and pop culture.
Audiences will hear smash hits Maori Boy, Icky Sticky and Best day I ever had.
JGeeks will also perform on Sunday at the Taupo Great Lake Centre Hall.
Tickets for the Rotorua show are just $10 (plus booking fee) online at Eventfinder or $15 on the door.
People who have already purchased tickets at the higher price may now bring an extra person free on their ticket - this applies to family passes and multiples.