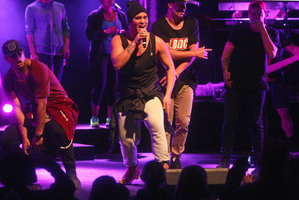 WHAT: Stan Walker's World Tour of New Zealand
WHEN: Wednesday night
WHERE: Rotorua Convention Centre
When pop star Stan Walker first performed in front of a big Rotorua audience as the headline act at the annual Lakeside concert in Rotorua in 2010, we knew he would become something special.
At the time his backing track for his hit song Little Black Box decided not to work - so not one to disappoint the fans - Walker grabbed a guitar from out the back and sung the song acoustically, sending the screaming audience into a frenzy.
Last night Walker was back in Rotorua - choosing our city to open his World Tour of New Zealand. Again, Rotorua loved him.
Opening act Whenua Patuwai, who came second on hit show X-Factor, did well and was a hit with the crowd (and how does he chew gum and sing at the same time? Quite an art).
The near sell-out crowd brought the house down as Walker took his audience on a journey through his so far short, yet successful, career.
He went from his earlier hits to his latest singles, snippets from a movie he starred in, Mt Zion, and a sneak preview into originals off his soon to be released album.
His four-piece band (consisting of bass, drums, electric guitar and keyboard) was amazing. So too were his slick back up singers - including Rotorua's own Turanga Merito (a fabulous performer in his own right).
Even these singers were subtly choreographed - adding that extra touch of professionalism to the show.
Probably the highlight was the dancing. Who knew Walker was such an amazing dancer? He had a crew of four young guys who were amazing and thrilled the screaming crowd whenever they came on stage.
The choreography was spot on - up there with the world's best. There wasn't a step out of place - and more importantly Walker was high energy remembering every move while not missing a note.
Bulletproof and the encore Take It Easy, when Patuwai was brought back on the stage, were definite highlights.
Stan Walker is a true superstar. The two hours and 45 minutes flew by. Look out world, this hard case Maori boy is going to take you by storm.