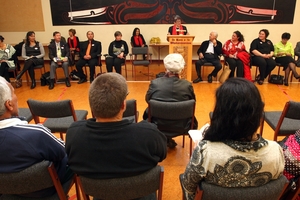 It was a light-hearted meeting with a serious subject - who local Maori will pick to represent them for the next three years.
With Rotorua's local body elections under way it was an opportunity for Rotorua's Maori candidates to let those interested know why the audience should tick their box before voting ends on October 12.
About 35 people met to listen to Maori candidates standing for election to the Rotorua District Council, Rotorua mayoralty, Bay of Plenty Regional Council and Lakes District Health Board at Te Kura O Te Whakarewarewa last night.
Of the 16 Maori candidates, 13 attended the meeting.
They were - Ratu Tibble, Kiri Potaka-Dewes, Tania Tapsell, Trevor Maxwell, Hemi Bennett, Tai Eru, Janine Bosma, Mericia Waqanimaravu, Merepeka Raukawa-Tait, Leith Comer, Debs Rahurahu and Elaine Macfarlane.
The meeting was arranged by the newly-formed Hinemoa branch of the Maori Women's Welfare League.
Organiser Toia Lukas-Walden said she was pleased with the turnout after initially hoping at least 12 of the candidates would attend the meeting.
"This is all about our Maori candidates coming to korero with us so we can hear what they can offer and so that we can all meet them.
"If you are unsure of who to vote for then this is your chance to listen and learn from each of them," she said.
Each candidate was given three minutes to introduce themselves and answer one question.
Mrs Lukas-Walden asked the male candidates what they would do to advance Maori women into leadership roles and the women were asked how they would lead Maori women in those roles.
Questions were also taken from the floor.
Candidates spoke about the Rotorua Eastern Arterial, boosting Maori health and the importance of whanau.
Voters have until October 12 to have their say.