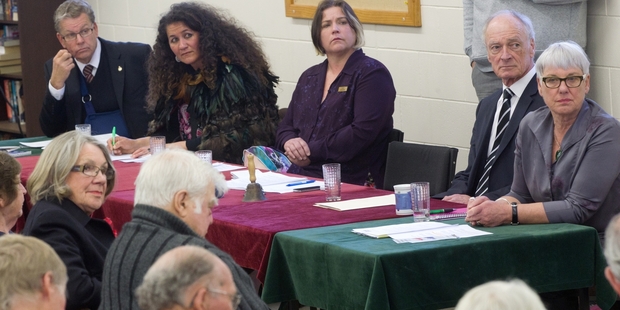 Rotorua mayoral candidate Steve Chadwick said she was pleased - but the job was not yet done - after a clear victory at the latest mayoral forum.
Rotorua's five mayoral candidates faced off at the U3A (University of the Third Age) mayoral forum yesterday at the Bridge Club in Neil Hunt Park.
About 180 people turned up to hear each candidate speak for eight minutes before they were asked a question relating to their campaign.
Questions were also taken from the floor before, in what some would call a surprise, a secret ballot result placed incumbent Rotorua Mayor Kevin Winters third behind Steve Chadwick and Rob Kent. The ballot asked those in attendance "if an election was held today, who would you vote for?".
Mrs Chadwick won 74 votes, Mr Kent 47 and Mr Winters 32 from those who took part.
Candidates Helen Hindmarsh and Janine Bosma picked up one vote each with 10 people saying they didn't know.
Mrs Chadwick said she was pleased with the poll result, but there was more work to be done.
"Polls are indicative, but I won't be comfortable until October's election," she said.
Mr Winters said the only poll worth taking any notice of was the official election result.
During the forum, candidates made their pitch for the city's top job.
Mrs Hindmarsh said she had a new way of presenting the policies and procedures the other candidates were talking about saying she wanted to involve the entire community in the decision making process.
She also warned listeners central government could force amalgamation on Bay of Plenty's local bodies in the near future.
Mr Kent made it clear he was not a politician, but a businessman who wanted to make a difference. His attacks on the council's "ludicrous and unsustainable" staff numbers and ballooning debt levels seemed to strike a chord with audience members.
"We need to take a guillotine to all of their bureaucratic red tape," he said.
Mrs Bosma told the audience she was inspired to run for mayor after the recent death of councillor Maureen Waaka.
She said the mayor's position of power had been overridden by the chief executive and this needed to change.
She said she wanted to abolish the council and form a new governance model based on the traditional Maori tohunga (expert practitioner) model.
Mrs Chadwick said there was a real need for change as the Rotorua community was becoming increasingly disconnected with those in "city hall".
"The team at the council is divided," she said.
She pointed to decisions regarding the appointment of the new council chief executive, purchase of the museum cafe and the old Westpac Bank building as recent examples of disunity among councillors.
Mr Winters defended his current council and staff.
He said 10 years of repeated "clean bills of health from the Office of the Auditor General" proved the council was in good shape.
"This is a very well run council," he said.
See rotoruadailypost.co.nz for video from the event.