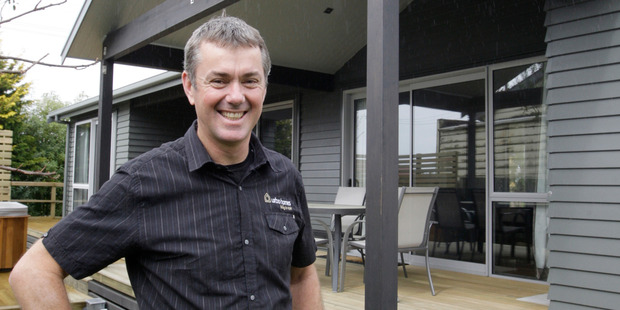 This week's newsmaker is Urbo Homes Limited director Martin Dobbe. Mr Dobbe was in the news this week after Urbo Homes was among the award winners at the Bay of Plenty and Central Plateau Registered Master Builders 2014 House of the Year.
Tell us a bit about yourself
I come from Dutch immigrant descent, my father was a farmer and I grew up locally on a farm in Waikite Valley.
I'm now growing up my own family of three boys and a girl here in Rotorua.
I did a lot of overseas travel doing raft guiding in the States and Nepal, building in New Zealand, building work in England and USA. During this time I became a qualified builder.
How did you get into the industry?
I started out labouring on residential building sites and worked through to having construction jobs with local craftsman builders like Don Parkes, John Dobbe and Adrie Van Arendonk.
During this time I did night classes to get my Trade Certificate Carpentry.
What is the most rewarding aspect of your job?
It is always exciting seeing the new designs as they come off the drawing board, but the most rewarding aspect would be seeing our clients enjoy their new home, and the friendships that we build through the process.
Designing and building a home is a very personal thing, and therefore our clients must trust us 100 per cent.
Being recognised by our industry at the awards is always very rewarding, as a lot of hard work goes into consistently delivering a product of this nature to a very high standard.
What modern trends are people asking for in their home designs?
Everyone has different needs depending on the stage of their lives, and every site is different, understanding this is the first stage.
People want a home that is warm and looks good, is practical, has excellent indoor outdoor living.
What are three features every great home should have?
Sun aspect, easy living spaces, you know a home is special when it has cool features or something special that you notice in every room.
How does Urbo Homes cope with the booms and slumps of the property market?
The most important thing is a good reputation for delivering quality, as there will always be people wanting to build.
We have reduced our exposure to the market ups and downs by spreading ourselves geographically and we now service the Rotorua, Whakatane, Taupo, Tauranga and Waikato areas.
Close management of sales and cashflows is important, as is being able to make timely changes as required.
What do you enjoy more, renovating an old house or building one from scratch?
They both present different challenges and enjoyments. The Tarawera bach we renovated at Lake Tarawera that won gold in the Master Build awards was a real success because of the outdoor living area.
What are the most memorable buildings you've worked on?
Skyscraper in London, winter build of a mountain retreat in Sun Valley Idaho, lake edge bach at Otaramarae, Lake Rotoiti.
They are special buildings in great locations. The landscape is the constant and when you get the right project it all comes together.
Describe your dream home.
A hut on a tropical island, open to the warm sea breezes, hammock and expansive views, no phone coverage, close to some good snorkelling.
What are three things people don't know about you?
Pimple on my left bum check, my left foot is bigger than my right, and I can juggle three oranges and one lemon.